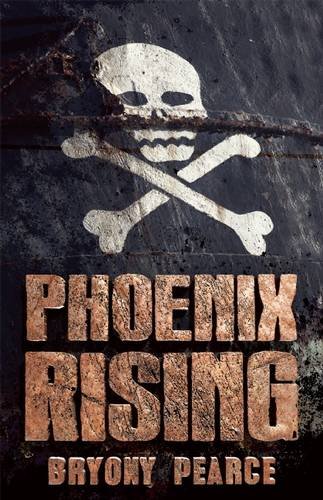 Publisher's Note:
Sail. Salvage. Repeat.

For as long as Toby can remember, he and his father have sailed on the Phoenix, salvaging from the junk-filled seas to stay afloat, while keeping under the radar of the authorities. His father is, after all, a wanted man.

And now the Phoenix is on the trail of the ultimate prize: a salvage of solar panels that could mean they'll never need to hunt for fuel again.

Ayla is second-in-command on the rival Banshee, where she's trained her whole life to fight—just as her mother, Captain Nell, demands. Since childhood, Ayla's been taught the Phoenix must be destroyed. With the ship in their sights, her crew is desperate to have the precious intel, too.

Toby's sick of a life at sea, and Ayla may be his only hope. Can he turn an old feud into a new alliance that will save both their skins?

Award-winning author Bryony Pearce brings the high seas to life with her rousing steampunk pirate adventure that will have you craving more.
This book was sent to Compass Book Ratings for review by Sky Pony Press
Phoenix Rising
by Bryony Pearce
Overall Review:
Toby has never set foot on dry land; his whole world is on the ocean as an engineer on his father's salvage vessel. Life is fraught with dangers--everything from mechanical malfunctions, corrupt governments, and the dangers of the toxic, polluted sea. All are a constant threat. Toby yearns to prove himself to both his father and the rest of the crew he calls family, but will he end up betraying them instead?
Dystopian future and swashbuckling adventure combine in Bryony Pearce's Phoenix Rising. A smart and exciting coming of age story with something to offer every reader, Pearce gives readers a smart and resourceful hero in the character of Toby. While compassionate, loyal, and in possession of an unusually solid streak of common sense for one so young, he is also humanized by a number of rash decisions, particularly when they involve Arya--the first girl his age he has ever met. Strong, capable and stubborn ... but also a rival and enemy!
Content Analysis:
Profanity/Language: 10 religious exclamations; 2 mild obscenities; 1 religious profanity.
Violence/Gore: Many references to harm from toxic oceans; several references to possible capital punishment; boy pushes man down ladder; many references to ecological disaster that changed the world's climate; several instances of bird biting boy's ear; character nearly pulled overboard; machine overheats dangerously; several references to the dangers of other pirates; pirates engage in several sea battles; character falls from ship rigging; character breaks back; several people sustain injuries in storm; boy kidnapped by rival pirates; boy locked in cage; boy engages in sword fight with girl; woman threatens to drown boy; boy knocks out man; boy is sold by man; reference to man beating woman; boy bites man; man hits girl; several references to and depictions of children being used as slave labor; character burns feet; several references to the ruthlessness of a particular captain; character warns of a trap; several men arrested, some casualties; young people engage in battle; character sets fire to a building; explosion traps several people, 1 killed; machine greatly damaged; girl knocks out boy; woman backhands girl; character stabbed; character recounts tale of family dying in a fire and receiving severe burns after betrayal; pirates sail past a sea battle.
Sex/Nudity: A few instances of boy and girl holding hands; boy and girl kiss; man holds injured woman.
Mature Subject Matter:
Family, piracy, death/abandonment of parent, environmental disaster.
Alcohol / Drug Use:
References to adults consuming alcohol.
Reviewed By Amberle