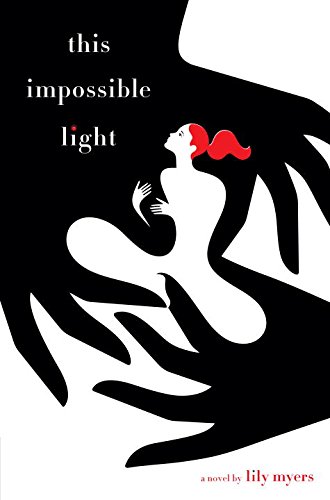 Publisher's Note:
From the YouTube slam poetry star of "Shrinking Women" (more than 5 million views!) comes a novel in verse about body image, eating disorders, self-worth, mothers and daughters, and the psychological scars we inherit from our parents.

Fifteen-year-old Ivy's world is in flux. Her dad has moved out, her mother is withdrawn, her brother is off at college, and her best friend, Anna, has grown distant. Worst of all, Ivy's body won't stop expanding. She's getting taller and curvier, with no end in sight. Even her beloved math class offers no clear solution to the imbalanced equation that has become Ivy's life.

Everything feels off-kilter until a skipped meal leads to a boost in confidence and reminds Ivy that her life is her own. If Ivy can just limit what she eats—the way her mother seems to—she can stop herself from growing, focus on the upcoming math competition, and reclaim control of her life. But when her disordered eating leads to missed opportunities and a devastating health scare, Ivy realizes that she must weigh her mother's issues against her own, and discover what it means to be a part of—and apart from—her family.
This book was sent to Compass Book Ratings for review by Philomel
This Impossible Light
by Lily Myers
Overall Review:
Written in verse, YA author Lily Meyers writes an impeccably realistic novel about disordered eating in, This Impossible Light.
Teenage protagonist Ivy is losing everything; her family is falling apart from divorce, her mother hardly notices her, her best friend is becoming distant, and her body is changing.
Desperate for some semblance of control Ivy becomes consumed with thoughts of perfection. She begins restricting her food and consuming herself with school work. Ivy thinks she has it all figured out, that's until things start spiraling out of control. Obsessed with thoughts of obtaining a flawless body, her grades begin to drop. Unable to sustain her restriction of food she starts binging and purging.
In few words, the author conveys an accurate account of not only the development of an eating disorder, but the thoughts and feeling associated with someone going through it-- their obsession with perfection, food, and body image. As I read this, I could feel the same desperation, anxiety, and sadness Ivy was experiencing.
Although it was heartbreaking, the author leaves readers' feeling hopeful about Ivy's recovery.
The author never glamorized disordered eating, nor was she critical or demeaning about someone going through it. Because eating disorders affect both genders of all ages, this book could be read by anyone and may be suitable for pre-teens who have access to a guardian to help them understand the dangers of disordered eating.
Review of an Advance Readers' Copy
Content Analysis:
Profanity/Language: 5 Religious exclamations; 1 mild obscenity.
Violence/Gore: Character has a bicycle accident, receiving injury, mention of blood.
Sex/Nudity: Parents divorce; parent dates, lives with their significant other; parent and their significant-other date; brief comparison of females' chest sizes; teen's friend reports that they made out with the opposite sex: teen stands nude in front of the mirror examining their body (non-sexual).
Mature Subject Matter:
Disordered eating, body dimorphism, divorce, depression, teen drinking.
Alcohol / Drug Use:
Mention of character seeing teens smoking cigarettes (2x); teens briefly discuss drinking alcohol; teens attend a party and drink alcohol; teen reports that they drank wine; teen drinks alcohol in front of their parent; report of teen's stomach being pumped due to alcohol poisoning.
Reviewed By MaryLou