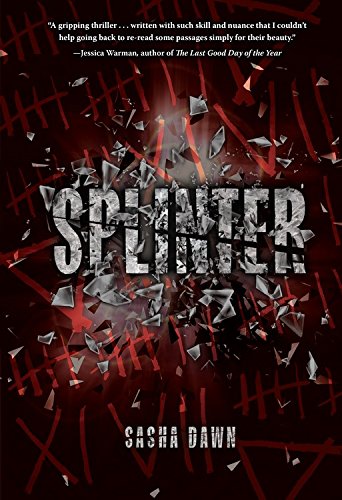 Publisher's Note:
Sixteen-year-old Sami hasn't seen her mother in ten years and neither has anyone else. The police suspect Sami's father had something to do with her mom's disappearance, but Sami's never believed that. Her mother chose to abandon her and start a new life. It's that simple.

But now, evidence has emerged about another missing woman who used to be involved with Sami's dad. Coincidence or evidence that the cops have been right all along?

As Sami investigates, she's forced to question everything she thought she knew about the dad who's always been there for her and the mother who supposedly abandoned her. And if her dad didn't kill her mother, what did happen?
This book was sent to Compass Book Ratings for review by Carolrhoda Lab
Splinter
by Sasha Dawn
Overall Review:
If you're a fan of murder mysteries, then Splinter is right up your alley. Chalked full of mystery, twists, turns, intrigue and who-done-it narrative, this novel is sure to delight readers of the mystery genre.
Sam's mother disappeared when she was a child. And while Sam was with her the day she disappeared, she remembers few details about who or how her mother went missing. But when other females from her father's past start turning up missing as well, the investigation into Sam's dad gets new fuel. As the heat increases, Sam's world begins to fall apart and she wonders if she was not only abandoned by her mother, but if her father might be the culprit.
Just when you think you have discovered the guilty party, Dawn takes you on a fantastic thrill ride of mystery and intrigue. Weaving in the subtle dynamics of blended families and of course the handsome next door neighbor, this book is sure to keep you turning pages well into the night.
While the subject of murder is obviously foremost in this book, very little detail or conjecture in method is provided and therefore, this book is one well suited to younger readers wanting to start a foray into the murder mystery genre. A good read for those looking to exercise their crime-solving muscles with a twist at the end so unexpected you have to read it to believe it.
Content Analysis:
Profanity/Language: 16 religious exclamations, 12 mild obscenities, 1 derogatory name, 12 scatological words, and 1 offensive hand gesture.
Violence and Gore: Numerous implied occurrences of murder; bumps and bruises from car accident; scrape to knee with minimal blood depicted; splinter in finger; fall down shaft resulting in minor injuries; scary scene of getting trapped in tunnel resulting in fall down shaft.
Sex and Nudity: Girl kisses boy once.
Mature Subject Matter:
Death of family member, divorce, abandonment, alcohol addiction, marriage infidelity, murder, driving under the influence.
Alcohol / Drug Use:
Multiple adults are alcoholics or recovering alcoholics.
Reviewed By Beckie