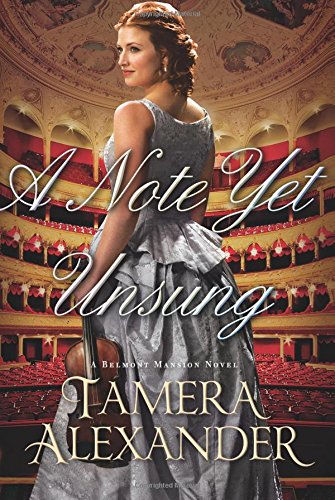 Publisher's Note:
#1 CBA Bestseller
From the beloved USA Today bestselling author of A Lasting Impression and To Whisper Her Name comes the third and final much-anticipated novel in the sweeping Southern Belmont Mansion series...
A master violinist trained in Vienna, Rebekah Carrington manages to wheedle her way into an audition with the maestro at the newly-formed Nashville Philharmonic. But women are "far too fragile and frail" for the rigors of an orchestra, and Rebekah's hopes are swiftly dashed because the conductor--determined to leave his mark on the world of classical music--bows to public opinion. To make matters worse, Adelicia Acklen Cheatham, mistress of Belmont Mansion and Rebekah's new employer, agrees with him.

Nationally acclaimed conductor Nathaniel Tate Whitcomb is Nashville's new orchestra leader. And despite a reluctant muse--and a strange buzzing and recurring pain in his head--he must finish composing his symphony before the grand opening of the city's new opera hall. But far more pressing, he must finish it for the one who first inspired his love of music--his father, who is dying. As Tate's ailment worsens, he believes Rebekah can help him finish his symphony. But how do you win back a woman's trust when you've robbed her of her dream?

As music moves us to tears yet makes our hearts soar, A Note Yet Unsung captures the splendor of classical music at a time when women's hard-won strides in cultural issues changed not only world history--but the hearts of men.
This book was sent to Compass Book Ratings for review by Bethany House Publishers
A Note Yet Unsung
by Tamera Alexander
Overall Review:
A Note Yet Unsung by Tamera Alexander is the third book in the Belmont Mansion series. These post-Civil War historical novels focus upon fictional characters, but also characterize the actual owner of the Belmont Mansion. This is an interesting approach as readers will find themselves both admiring and detesting the woman Adelicia Acklen Cheatham. Her personality is well-developed throughout the series, but the author makes it clear this is her interpretation of the woman.
In this book, there are some very interesting and heart-breaking plot twists. Tamera Alexander has a great ability to develop interesting and unique plots which intrigue and encourage readers. She invites readers to become part of the lives of her characters. The triumphs, failures, and heart breaks of each character become important and personal.
When the story closes, the major plot points have all been resolved, but there is one thing that would have satisfied curiosity. The author could have hinted in her epilogue how long of a time period before a character suffered the devastating effects of a physical malady. Perhaps this was deliberate to allow the reader to decide how things went. The ending was especially sweet.
A Note Yet Unsung is an enjoyable read as far as the main characters go, but there are plenty of weighty matters to be considered. Several unpleasant souls and a great deal of thought-provoking material combine to make this a worthwhile read.
Content Analysis:
Profanity/Language: None
Violence/Gore: Report of a man found beaten to death; report of a mom whipping her child; report of a man shot and killed and found with his neck slit; report of a body found at the bottom of a mind shaft - murder implied; a man grabs a woman and is forced to release her at gun point; a man grabs a woman and she stabs him with a knife to force him to release her.
Sex/Nudity: Character recalls her step-father attempting to sexually assault her as a young teen, he is interrupted; a statute depicts an exposed breast; an adult woman is grabbed and a man tries to force himself upon her; non-married characters embrace and kiss.
Mature Subject Matter:
Death of family members, molestation, incurable illnesses, discrimination.
Alcohol / Drug Use:
A character recalls a man's breath smelling of alcohol; many references to opium addiction and other drug abuse, but no scenes of actual usage; characters discuss the fact that people make moonshine for livelihoods and that young people may have tried some.
Reviewed By Susan