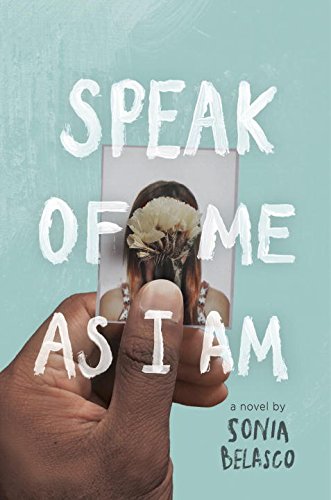 Publisher's Note:
A moving story of grief, honesty, and the healing power of art - the ties that bind us together, even when those we love are gone.

Melanie and Damon are both living in the shadow of loss. For Melanie, it's the loss of her larger-than-life artist mother, taken by cancer well before her time. For Damon, it's the loss of his best friend, Carlos, who took his own life.

As they struggle to fill the empty spaces their loved ones left behind, fate conspires to bring them together. Damon takes pictures with Carlos's camera to try to understand his choices, and Melanie begins painting as a way of feeling closer to her mother. But when the two join their school's production of Othello, the play they both hoped would be a distraction becomes a test of who they truly are, both together and on their own. And more than anything else, they discover that it just might be possible to live their lives without completely letting go of their sadness.
This book was sent to Compass Book Ratings for review by Philomel
Speak Of Me As I Am
by Sonia Belasco
Overall Review:
Speak of Me As I Am is a super emotional story on many levels. Sonia Belasco talks in the Author's Note about how difficult it is to be left behind after someone dies, whether from suicide, cancer or other causes. She delves into many other sensitive subjects such as being gay (and the complications that can come with that), coming out as well as feeling like you're unable to do so for several reasons. As a dual narrative, we're able to get the perspective of the two main characters, Damon and Melanie, who are both returning to school after a very difficult summer. With seemingly little in common and feeling very broken and alone, their paths cross and they discover how similar they really are. Belasco also created some great characters from the hilarious best friend to the too-cool cousin, both of which you can picture perfectly. Whether you're a fan of Shakespeare's Othello, you're struggling with the death of a loved one, or just don't feel as though you can be who you want to be, many will find something they can relate to in this story.
Review of an Advance Reader Copy
Content Analysis:
Profanity/Language: 38 religious exclamations; 25 mild obscenities; 2 religious profanities; 8 derogatory names; 43 scatological words; 35 anatomical terms; 2 offensive hand gestures; 50 f-word derivatives.
Violence/Gore: Many (24) brief incidents including character compares something to having skin ripped off; character wants to eviscerate something; character jokingly thinks about how they would die; character imagines cutting wrists; character jokingly thinks about poking another with an earring; character thinking that another might be a serial killer; joke about carving someone up; character tells another to not get mugged; reference to comic with character who cuts others in half; character play punches; joke and movie about serial killer; reference to sacrificial lamb; picture of a man about to kill his wife; reference to slasher movie; reference to character who hits family; reference to murder; second-hand report of character's parent dying; second-hand report of suicide; reference to something blowing up in a movie; character falls (no injuries); character gets a splinter reference to tagging trains.
Sex/Nudity: Many (75) brief incidents including touching shoulder, neck and back; hugging; playing with hair while lying in lap; blowing a kiss; second-hand report of dancing; holding hands; squeezing arm; flirting; second-hand report of character making out; arm around; reference to sex toy stores; joking about "whoring"; innuendo; character says would have sex; many references to homosexuality (one of the characters is); reference to song describing butt; story with hooker in it; character makes obscene gestures; homosexual name calling; character asked who would like to have sex with; character mentions that she is wearing a shirt to sleep in that shows nipples; reference to characters talking dirty; wife cheated on husband in play; reference to someone staring at woman's breasts; character wants to do sexual things to another; character thinks about sex; reference to a character being slutty; joke about a whore; second-hand report of character touching the inside of another's thigh while kissing; characters fell asleep together while cuddling; reported sex; character makes sexual reference to another "doing things with tongue"; references to nude pictures; character catches guy with hands down another guy's pants; characters lying on top of each other with clothes on.
Mature Subject Matter:
Suicide, homosexuality, death, cancer, references to poverty and homelessness, reference to stealing, a few incidents of characters trespassing, many sexual references.
Alcohol / Drug Use:
Reference to bars and drinking; joking about drug dealing; second-hand report of character getting drunk at party; reference to characters getting drunk; reference to teen smoking; character is asked if she's high (she isn't); teenage character offered marijuana at a party; teenager character smokes marijuana with mother; character references grandfather who smells of brandy.
Reviewed By Jenny