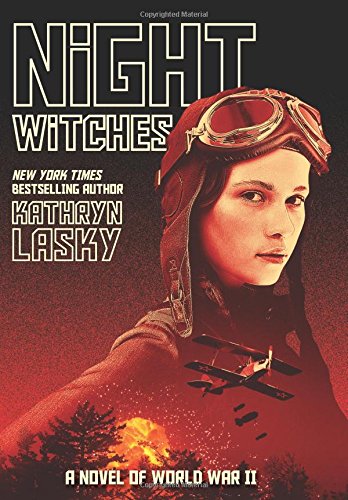 Publisher's Note:
16-year-old Valya knows what it feels like to fly. She's a pilot who's always felt more at home soaring through the sky than down on earth. But since the Germans surrounded Stalingrad, Valya's been forced to stay on the ground and watch her city crumble.

When her mother is killed during the siege, Valya is left with one burning desire: to join up with her older sister, a member of the famous and feared Night Witches-a brigade of young female pilots.

Using all her wits, Valya manages to get past the German blockage and find the Night Witches' base . . . and that's when the REAL danger starts. The women have been assigned a critical mission. If they succeed, they'll inflict serious damage on the Nazis. If they fail, they'll face death . . . or even worse horrors.

Historical fiction master Lasky sheds light on the war's unsung heroes-daredevil girls who took to the skies to fight for their country-in an action-packed thrill ride that'll leave you electrified and breathless.
This book was sent to Compass Book Ratings for review by Scholastic
Night Witches: A Novel of World War Two
by Kathryn Lasky
Overall Review:
"To fly is to slip the chords of earth and join the sky." -Valya
Having not been familiar with the German female military aviators of World War II, it was fascinating to read their story in Night Witches. The devastating war details were sad to read about but the way they are briefly mentioned prevented the story from becoming too overwhelming or dispiriting. The plot is well-developed with copious detail; author, Kathryn Lasky, must have done an extensive amount of research for this novel to ensure its authenticity. The main character, Valya, was a little whiny at times but it was understandable, having to always live under the shadow of her big sister, Tatyana. The characters Valya meets throughout the war were so interesting and varying in personality. I especially enjoyed the different pilots she came in contact with as they were such strong, inspiring women. Lasky's beautifully poetic language reminds me of Sharon Shinn's writing (whom I love). If you enjoyed Marianne Kaurin's Almost Autumn or you're a fan of historical fiction or World War II novels, you need to pick up this book.
Content Analysis:
Profanity/Language: 9 religious exclamations; 8 mild obscenities; 1 derogatory name; 4 scatological words; 2 anatomical terms.
Violence/Gore: Many (52) brief incidents including character mentions the possibility to get shot for being a traitor; character is worried about getting frostbite; character jokes about whacking off another's privates; talking about preference on how to die; joking about throwing a bomb on someone; plans to attack; character is given a cyanide pill in case caught by enemy; many second-hand reports of bombing resulting in destruction of buildings and deaths; references to killing; character's father is MIA; reference to character getting horse meat; second-hand reports of characters getting shot; discussions of war; reference to explosion and fire; song about war; reference to genocide; second-hand report of character losing eye in plane crash; second-hand report of beatings; reference to bombings and suicide; character gets trampled on and receives nose bleed; character bites lip and causes it to bleed; character's leg is hurt during plane crash; characters get shot at; several (13) incidents of characters getting killed by bombing or getting shot.
Sex/Nudity: A few (10) brief incidents including touching face; holding hand; hugging; kissing hand; references to girls fooling around with boys; second-hand report of lewd glances and groping; reference to sex; girls talk about skinny dipping and innuendo; mention of rape; reference to non-married girl having a child.
Mature Subject Matter:
Death, murder, war, rape (only mentioned).
Alcohol / Drug Use:
Smoking cigarettes; teenagers drinking vodka; character given cyanide pill in case captured by the enemy.
Reviewed By Jenny