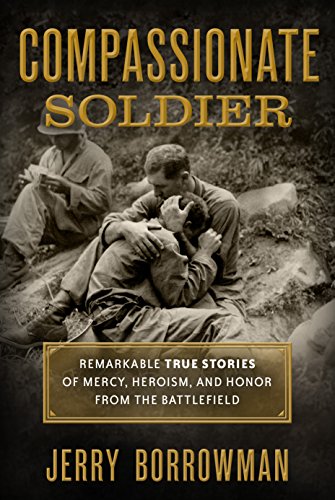 Publisher's Note:
Compassionate Soldier illuminates some of the most fascinating and yet largely unknown stories of men and women whose humanity led them to perform courageous acts of mercy and compassion amid the chaos and carnage of war. Arranged by war from the American Revolution to the Iraq War and global in perspective, it features extraordinary stories of grace under fire from valiant soldiers and noncombatants who rose above the inhumanity of lethal conflict and chose compassion, even knowing their actions could put their lives and liberty at risk.

Included in this collection are the stories of Richard Kirkland, a Confederate soldier during the Civil War who disobeyed orders and brought blankets and water to the wounded from both North and South during the Battle of Fredericksburg; Patrick Ferguson, a British soldier during the American Revolution who had the chance to kill George Washington, but refused to shoot a man in the back; and Oswald Boelcke, a German WWI flying ace who was one of the most influential tacticians of early air combat, but was known for making sure the airmen he shot down made it to the ground alive.
These inspirational stories illustrate that even in the midst of unspeakable horrors of war, acts of kindness, mercy, compassion, and humanity can prevail and, in doing so, expand our conventional thinking of honor and battlefield glory.
This book was sent to Compass Book Ratings for review by Shadow Mountain
Compassionate Soldier: Remarkable True Stories of Mercy, Heroism, and Honor from the Battlefield
by Jerry Borrowman
Overall Review:
Compassionate Soldier: Remarkable True Stories of Mercy, Heroism, and Honor from the Battlefield will move and inspire readers. Written by award-winning author Jerry Borrowman, this fascinating nonfiction book shares little-known stories of courage during warfare. These touching incidents appear in chronological order and span several centuries -- starting with the American Revolutionary War to the Civil War, on down to the World Wars and the Middle Eastern conflict of present day. Borrowman is clear and concise in his writing, and his work is well-researched. Each chapter provides plenty of context and background information to familiarize readers. Although Compassionate Soldier is set during the darkest times of history, its pages will impress upon readers the good that can be found in humanity.
Review of an Advance Reader's Edition
Content Analysis:
Profanity/Language: None
Violence/Gore: Several implied occurrences of violence and verbal threats including hate mail, shots fired, and pointing a gun to someone's head; frequent secondhand reports of violence including mass murder, the massacre at My Lai, the HMS Lusitania tragedy, Kristallnacht, suicide bombers, shark attacks, attempted assassination of Hitler, a firing squad, torture, beating of a Jewish family, and a zeppelin bombing; a brief scene of violence when prisoners are assaulted; a few extended scenes of violence including an air battle and Vietnam War; a few incidents of destruction of property with no casualties; several non-detailed scenes of violent death including suicide, napalm attacks, shootings, battle, plane bombings and servants being burned alive; a brief scene of intense violence regarding the Vietnam War also takes place.
Sex/Nudity: None
Mature Subject Matter:
War, battle, napalm attacks, weapons, morals and ethics, resistance work, prisoners of war, depression, murder, divorce, slavery, suicide and thoughts of suicide, anti-Semitism.
Alcohol / Drug Use:
A man is described as drunk; a man asks another for a cigarette.
Reviewed By Rachel