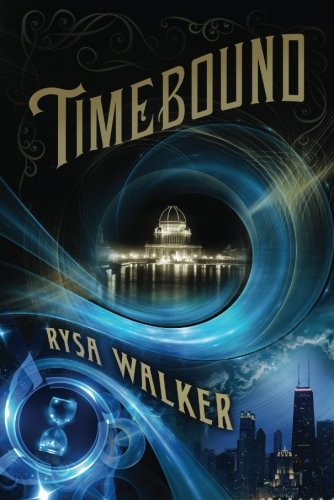 Publisher's Note:
2013 Winner — Amazon Breakthrough Novel Award — Grand Prize and Young Adult Fiction Winner
When Kate Pierce-Keller's grandmother gives her a strange blue medallion and speaks of time travel, sixteen-year-old Kate assumes the old woman is delusional. But it all becomes horrifyingly real when a murder in the past destroys the foundation of Kate's present-day life. Suddenly, that medallion is the only thing protecting Kate from blinking out of existence.
Kate learns that the 1893 killing is part of something much more sinister, and her genetic ability to time travel makes Kate the only one who can fix the future. Risking everything, she travels back in time to the Chicago World's Fair to try to prevent the murder and the chain of events that follows.
Changing the timeline comes with a personal cost—if Kate succeeds, the boy she loves will have no memory of her existence. And regardless of her motives, does Kate have the right to manipulate the fate of the entire world?
Timebound was originally released as Time's Twisted Arrow.
Timebound
by Rysa Walker
Overall Review:
Science fiction and time travel always make for a great start to a thrilling adventure. Twists and turns make this tale suspenseful and the level of intrigue keeps the reader hoping for more. The story is a tad bit slow getting started as the author fills us in on the characters and setting, but once it starts moving, the story is hard to put down. Even through it's fiction, the author has done a great job making it all believable. It's not hard to imagine the process they use to time travel. This book reminds me of the TimeWars series by Simon Hawke (but with a little less language).
Two of the main characters are teens and this narrative is the written account of their exciting exploits. Romance and challenges help to define who they are as this suspenseful story unfolds. Entrusted with saving the time line, they show spunk and tenacity. It's fantastic to see the author made the leading female characters strong and very capable. They can think for themselves, attempt to defend themselves when necessary, and even try to put the needs of others before themselves. A few other characters are intertwined along with the typical good guys and bad guys who help define the plot and give the twists necessary to make it intriguing.
The author, Rysa Walker, has done a good job describing details of history and making them sound exciting. Perhaps it would even be engaging for teens who struggle with being interested in history. The reader should be aware that there are a few gory details about a historical serial killer who adds intrigue and suspense to the scenario. There are at least four more books in the series so it will be delightful to see where this historical tale leads.
Content Analysis:
Pronfanity/Language: 4 religious exclamations; 28 mild obscenities; 3 derogatory names.
Violence/Gore: Teen girl mugged at gun point, toes smashed; husband physically abuses wife, hits her several times, splits her lip and leaves red mark around her neck from necklace; man murdered, brief details; man holds woman with knife to her throat, bomb on her chest, bomb explodes, minimal details; mention of a historical serial killer, brief details of deaths; teen girl hit on head with chair by another teen girl, blood, faints; 2 dogs attack teen girl, 1 bites, blood and bandages mentioned; evil man holds teen girl forcefully, arm bent back, leering comments, physically touches with intent to cause fear; teen boy hits man on head with tire iron, some blood; woman pushed down 2 stairs, no physical damage; woman tackled, head hit on ground, some blood; teen girl abducted and taken hostage with intent to kill; 2 women and a child held at gunpoint and locked in a room by a man with intent to harm; attempted murder by fire; dead body; smell of decomposing body; acid thrown at woman by man; man shoots at woman.
Sex/Nudity: Several kisses between teen boy and teen girl, mostly undescribed but a few have minor details; 2 teens make out, talk of future sex; brief mention of adult sexual appetites; man touches teen girl with intent to cause fear but no details of where.
Mature Subject Matter:
Spouse abuse, fire, religious ethics, financial ethics, time travel ethics, death of parents, child abduction, serial killer, threat of genocide.
Alcohol / Drug Use:
Teen girl drugged and abducted.
Reviewed By Beth