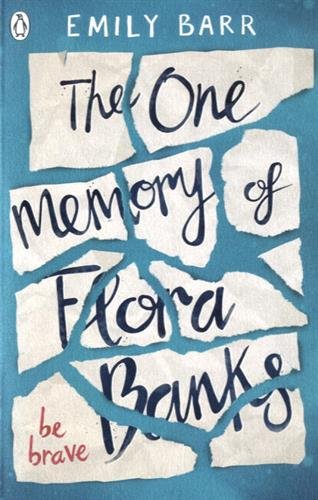 Publisher's Note:
It's not a lie if you can't remember the truth.

"Mesmerizing, electric, and achingly lovely, The One Memory of Flora Banks is unforgettable. One of the best YA novels I've read in a very long time."
--Jennifer Niven, New York Times bestselling author of All the Bright Places

Seventeen-year-old Flora Banks has no short-term memory. Her mind resets itself several times a day, and has since the age of ten, when the tumor that was removed from Flora's brain took with it her ability to make new memories. That is, until she kisses Drake, her best friend's boyfriend, the night before he leaves town. Miraculously, this one memory breaks through Flora's fractured mind, and sticks. Flora is convinced that Drake is responsible for restoring her memory and making her whole again. So, when an encouraging email from Drake suggests she meet him on the other side of the world—in Svalbard, Norway—Flora knows with certainty that this is the first step toward reclaiming her life.

But will following Drake be the key to unlocking Flora's memory? Or will the journey reveal that nothing is quite as it seems?

Already a bestselling debut in the UK, this unforgettable novel is Memento meets E. Lockhart's We Were Liars and will have you racing through the pages to unravel the truth.
This book was sent to Compass Book Ratings for review by Penguin
The One Memory of Flora Banks
by Emily Barr
Overall Review:
Flora. Be Brave. Sums up the whole book nicely. Flora is a 17-year-old girl with retrograde amnesia. She remembers things for an hour, or at max a few hours. But now she has a new memory and it doesn't seem to be going anywhere.
This was an interesting book to read. It takes a bit to become accustomed to the writing style, but once you get further into the book and learn more about Flora, they style that is a little bit stilted makes much more sense. The twists and turns in Flora's adventure will keep readers turning pages to find out just how the story will end.
The One Memory of Flora Banks also is a bit sad. As the end of the book approached, I found myself feeling profoundly sad for this young girl in such a frustrating and trying state of being. By the final page, I was wishing for a sequel to see just where Flora can go when she isn't held back by the well-meaning family around her.
A good read for those wanting to cheer on a girl heroine who just wants to be normal.
Review of an Advance Reading Copy
Content Analysis:
Profanity/Language: 21 religious exclamations, 7 mild obscenities, 4 derogatory names, 8 scatological words, 1 anatomical term, 1 f-word derivative.
Violence/Gore: Character falls down stairs; carves name into skin with depiction of blood.
Sex and Nudity: 2 kisses between teens; 6 references to sex; 2-page email exchange with references to sex and nudity; head laid on another's shoulder.
Mature Subject Matter:
Terminal illness with death of family member, thoughts of self-harm, underage drinking.
Alcohol / Drug Use:
Teens drink at party; teen drinks beer.
Reviewed By Beckie