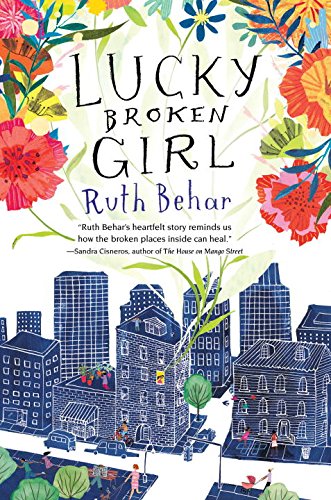 Publisher's Note:
In this unforgettable multicultural coming-of-age narrative—based on the author's childhood in the 1960s—a young Cuban-Jewish immigrant girl is adjusting to her new life in New York City when her American dream is suddenly derailed. Ruthie's plight will intrigue readers, and her powerful story of strength and resilience, full of color, light, and poignancy, will stay with them for a long time.

Ruthie Mizrahi and her family recently emigrated from Castro's Cuba to New York City. Just when she's finally beginning to gain confidence in her mastery of English—and enjoying her reign as her neighborhood's hopscotch queen—a horrific car accident leaves her in a body cast and confined her to her bed for a long recovery. As Ruthie's world shrinks because of her inability to move, her powers of observation and her heart grow larger and she comes to understand how fragile life is, how vulnerable we all are as human beings, and how friends, neighbors, and the power of the arts can sweeten even the worst of times.
This book was sent to Compass Book Ratings for review by Nancy Paulsen Books
Lucky Broken Girl
by Ruth Behar
Overall Review:
Lucky Broken Girl is the heart-warming, courageous, somewhat autobiographical story of author Ruth Behar. A story with so many underlying themes will surely touch the heart of any reader. It is 1963 and Ruthie is a recent immigrant from Cuba, having just arrived with her parents and little brother. Life is harder than she thought it would be now that she lived in the land of promise. She has to learn English before she can prove that she really is smart. Her mother relies on her to help her get around and she misses her home. But moving to New York City also opened her eyes to the world she lives in. She makes friends with people from India, Belgium and many others, finding out that she has a lot in common even if they don't speak the same language. As she determinedly finds her way in this new world, she helps the reader to learn a little about overcoming stereotypes and prejudices. Then along the way, Ruthie gets thrown a life-changing curve ball.
Suddenly, Ruthie can no longer do all that she was able to do. She now has to lay in bed, completely reliant on others for every basic need. With this new challenge, Ruthie needs to dig deep to find courage and fortitude to not only heal, but to continue to learn English and keep up in school, to learn to be grateful for the little things, and to learn to forgive. Along this new path, she meets and makes many new and wonderful friends that help her make it through this difficult time. From ambulance drivers, tutors, doctors, physical therapists and even a new neighbor, Ruthie learns a little something from each that helps her heal, both physically and spiritually.
Lucky Broken Girl is such a beautifully written novel that leaves the reader feeling uplifted and inspired by the example of one courageous girl. The fact that it is based on the author's real life experience makes it all the more heart-warming and special. With little bits of wisdom and characters that set great examples of overcoming obstacles, whether they are prejudices, physical limitations, atrocities, and many other things, this novel will surely leave the reader with slightly different outlook on the world.
Review of an Advance Reading Copy
Content Analysis:
Profanity/Language: None
Violence/Gore: Characters are in a car accident with 4 page description of the aftermath from an injured character's perspective; fairytale retold in which the person orders to have her feet chopped off after being inflicted with a cursed pair of shoes; mention of 4 people having died in the car accident; secondhand account given of a little boy having fallen from a 5 story window and dying; character tells of having to have fought off a boy who was trying to kiss her and the boy then pulling out a knife giving her a scar (story from the character's past); character mentions how her husband was abusive (no details given) and therefore she divorced him and came to America.
Sex/Nudity: None
Mature Subject Matter:
Death, severe injuries, divorce, allusion to abuse but no details given.
Alcohol / Drug Use:
Adults drink a mixed drink with rum in it.
Reviewed By Sally