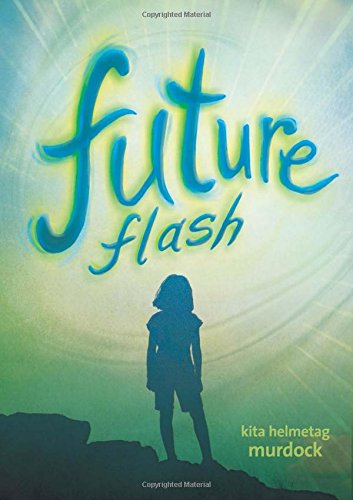 Publisher's Note:
For as long as she can remember, Laney has been having "future flashes"—visions of the future that she sees when she makes physical contact with another person. Left on a doorstep as a baby, Laney's past has always been cloudy to her, despite the clarity with which she can see the future. Her caretaker, Walt, claims to be her father, but Laney has a nagging suspicion that he isn't quite telling her the entire truth. And when a new kid, Lyle, moves to her small town, Laney is dreading meeting him—she almost always gets a future flash when first meeting someone new, and the flashes aren't always good. Unfortunately, her meeting with Lyle isn't just bad; it's painful. Engulfed in flames, Lyle's future flash is the worst Laney's ever experienced. But what does it mean? Is there anything Laney can do to change the future? And will she be able to save Lyle not only from a fiery death but also from the merciless class bully without becoming a victim of his antics herself?

In this thrilling and imaginative middle grade novel from author Kita Helmetag Murdock, follow Laney as she works against the clock to understand her past and prevent the disaster looming in the future.
This book was sent to Compass Book Ratings for review by Sky Pony Press
Future Flash
by Kita Helmetag Murdock
Overall Review:
Laney vividly remembers the day her father found her on his doorstep, despite the fact that she was only a year old; it was the first she caught a glimpse of the future. Now, twelve years later, her future flashes have become common place and she usually delights in the happy future moments she sees for the people around her. Until Lyle moves to town. The future she sees for him is terrifying and she doesn't know how to stop it, but she knows she has to try.
Future Flash by Kita Helmetag Murdock is a high stakes story of friendship and human relationships. Despite the story being a little under-developed, Murdock still manages to beautifully illustrate the social dynamics and politics of a small town, from the self-styled "crazy cat lady" to the school bully. The reader's attention is quickly captured and held from beginning to end with all characters that are all very relatable and real to life.
Content Analysis:
Profanity/Language: None
Violence/Gore: Many references to bullying behavior; many references to a fire; a few references to parental death; boy shoves other boy off his bike; boy sustains several physical injuries; a few instances of a boy lighting toys on fire; boy falls; girl recalls hitting her finger with a hammer; boy brags about beating up other boy; boy breaks other boys nose; boy knocks out other boy; extended scene of children caught in a house fire (feline deaths alluded to); minor burns sustained.
Sex/Nudity: Girl hugs boy.
Mature Subject Matter:
Abandonment, death of a parent, fate, divorce, vandalism, bullying.
Alcohol / Drug Use:
References to adults drinking heavily.
Reviewed By Amberle