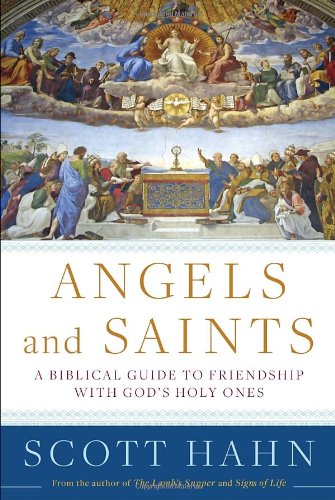 Publisher's Note:
Angels and saints. Catholics tend to think of them as different from the rest of us. They're cast in plaster or simpering on a holy card, performing miracles with superhero strength, or playing a harp in highest heaven.

Yet they are very near to us in every way. In this lively book, Scott Hahn dispels the false notions and urban legends people use to keep the saints at a safe distance. The truth is that Jesus Christ has united heaven and earth in a close communion. Drawing deeply from Scripture, Dr. Hahn shows that the hosts of heaven surround the earthly Church as a "great cloud of witnesses." The martyrs cry out from heaven's altar begging for justice on the earth. The prayers of the saints and angels rise to God, in the Book of Revelation, like the sweet aroma of incense.

Dr. Hahn tells the stories of several saints (and several angels too) in a way that's fresh and new. The saints are spiritual giants but with flesh-and-blood reality. They have strong, holy ambitions—and powerful temptations and opposition that must be overcome. Their stories are amazing and yet familiar enough to motivate us to live more beautiful lives. In this telling of their story, the saints are neither otherworldly nor this-worldly. They exemplify the integrated life that every Christian is called to live.

Still, their lives are as different from one another as human lives can be. Dr. Hahn shows the heavenly Church in all its kaleidoscopic diversity—from Moses to Mary, Augustine to Therese, and the first century to the last century.

Only saints will live in heaven. We need to be more like the saints if we want to live in heaven someday. Dr. Hahn shows us that our heavenly life can begin now.

It must.
Angels and Saints: A Biblical Guide to Friendship with God's Holy Ones
by Scott Hahn
Overall Review:
"...we are surrounded by a great cloud of witnesses..." (Hebrews 12:1)
In Angels and Saints, leading Catholic theologian, Scott Hahn, demystifies the doctrine of angels and saints and tackles the common misconceptions held about them. Hahn starts off the first part of the book with a personal encounter he had, goes on to explain the natures of angels and saints, and then ends the section by explaining how and why the Church venerates them.
In the second part of the book, Hahn discusses Michael and the archangels and explains their role in the church. This he backs up with biblical evidence. He then discusses the lives of saints from different times - Moses, who had a great prayer life and intimacy with God; Paul, a great teacher who referred to everyday people as 'saints', indicating that we are all called to sainthood; St. Ignatius of Antioch, who wrote moving letters to the Church while traveling to his execution and willing martyrdom; St. Irenaeus of Lyons, the peacemaker who took on gnostic heretics and wrote extensively about Christian theology; St. Jerome, whose intellect and love for scripture drew his circle of friends closer to God, despite his irascible temperament; St. Monica, who prayed long and hard for the conversion of her wayward son, St. Augustine; St. Thomas Aquinas, a great Bible theologian; St. Therese of Lisieux, the saint of little things; St. Maximilian Kolbe, saint of Auschwitz; and St. Josemaria Escriva, who preached the greatness of ordinary life.
As impressive as these saints are, Hahn takes time to discuss their flaws, in order to show that they were truly flesh and blood like the rest of us. He shows us a misguided zealot, a sharp-tongued priest, a philandering hedonist, and an impetuous child among others, who find their way to sainthood through repentance, humility and love for God and scripture. Their stories show the transforming power of God's grace. Written from a Catholic perspective, Angels and Saints instructs with biblical references and historical facts in an engaging manner that will appeal to anyone at all. Hahn's message is simple: saints are not an elite group of superpowered Christians - we are all called to sainthood despite our inadequacies.
Angels and Saints is a quick and easy read, and a must-read for anyone seeking clarity on the Catholic Church's teaching on angels and saints, as well as anyone who wants inspiration on how to be a better Christian. Many people look up to successful professional to learn how to better themselves...why not saints?
Content Analysis:
Profanity/Language: None
Violence/Gore: A battle is briefly mentioned vaguely; an undetailed account of a murder is given; blood sacrifice is mentioned in a historical context; two people are executed for their faith; a man is struck several times; many people are killed in a genocide by starvation, injection with carbolic acid and suffocation in a gas chamber, and people recycle their urine to survive (none of this is described explicitly).
Sex/Nudity: None
Mature Subject Matter:
Martyrdom, heresy, the Holocaust, a natural death is mentioned.
Alcohol / Drug Use:
None
Reviewed By Olamide