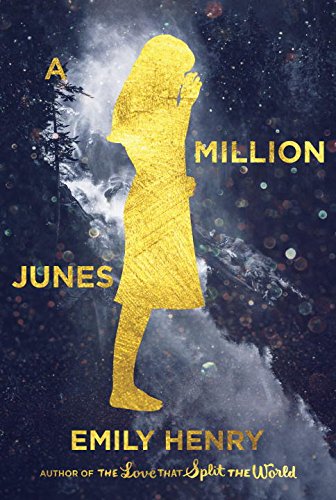 Publisher's Note:
Romeo and Juliet meets One Hundred Years of Solitude in Emily Henry's brilliant follow-up to The Love That Split the World, about the daughter and son of two long-feuding families who fall in love while trying to uncover the truth about the strange magic and harrowing curse that has plagued their bloodlines for generations.

In their hometown of Five Fingers, Michigan, the O'Donnells and the Angerts have mythic legacies. But for all the tall tales they weave, both founding families are tight-lipped about what caused the century-old rift between them, except to say it began with a cherry tree.

Eighteen-year-old Jack "June" O'Donnell doesn't need a better reason than that. She's an O'Donnell to her core, just like her late father was, and O'Donnells stay away from Angerts. Period.

But when Saul Angert, the son of June's father's mortal enemy, returns to town after three mysterious years away, June can't seem to avoid him. Soon the unthinkable happens: She finds she doesn't exactly hate the gruff, sarcastic boy she was born to loathe.

Saul's arrival sparks a chain reaction, and as the magic, ghosts, and coywolves of Five Fingers conspire to reveal the truth about the dark moment that started the feud, June must question everything she knows about her family and the father she adored. And she must decide whether it's finally time for her—and all of the O'Donnells before her—to let go.
This book was sent to Compass Book Ratings for review by Razorbill
A Million Junes
by Emily Henry
Overall Review:
So actually, A Million Junes by Emily Henry was a romance I didn't hate! Usually I find romances to be on the tedious side, with a first obligatory sex scene occurring about halfway through the book to prepare you for the even sexier scene later. While this book did contain those scenes, I was nonetheless surprised to discover I didn't hate the main character, 18-year-old Jack "June" O'Donnell IV. She is a normal teenager with a normal teenager viewpoint, on the cusp of graduating high school and with no ambitions in life other than doing as her deceased father did and wandering the world in search of adventures. But June is an O'Donnell, and in her hometown of Five Fingers, Michigan, there are two unspoken family rules: 1. Don't go near the falls or swim in the lake, and 2. Don't associate with the Angerts. For centuries, the O'Donnells and Angerts have had malevolent history with each other, with violence striking both families repercussively. Like they're unlucky. Or cursed.
However, not only does June meet and fall for Saul Angert, son of her late father's mortal enemy, but she now has to dig deep into the past and let the ghosts of Five Fingers show her what happened between the Angerts and O'Donnells so long ago. Because if she and Saul can't break the curse, tragedy will strike both families. And soon.
June was, surprisingly, a teenage character I found intriguing. The author, Emily Henry, uses lyrical language and beautifully described metaphors to create atmosphere and portray the numerous relationships occurring in this book. She chooses poignant phrasing to drive scenes home. I also found myself liking Saul, the romantic interest, which is unusual for me. Again, I typically find romances heavy handed on the romance and slow on plot, but this had an intriguing plot and good character development.
I did skim over a couple scenes, because I honestly don't go in for romance scenes, particularly the steamy ones. And I will direct readers to the profanity/language content write up below. ( I suppose high-schoolers do frequently swear in normal conversation, but since I don't swear I was a bit nonplussed at the frequency.) Other than that, I was pleasantly surprised to enjoy this book as much as I did.
Review of an Advance Uncorrected Proof
Content Analysis:
Profanity/Language: 31 religious exclamations; 8 mild obscenities; 1 derogatory name; 13 scatological words; 11 anatomical terms; 1 offensive hand gesture; 1 F-word derivative.
Violence/Gore: Character has ghostly visitations when something bad happens/is about to happen; a character gets lost in a mirror maze; a character accidentally bites someone; a character jokes about being able to kick someone in the crotch; characters sometimes recall past violence; characters have an argument; a character recalls seeing a dead chicken once; characters have a flashback/vision of a terminally ill person; a character spanks his daughter; a character has visions/flashbacks of someone's death; a character relates how she thinks a curse is responsible for all past and presence violence in two families; characters are caught in a stampede as animals flee from a ghostly presence, with some description of violence; characters nearly drown; two characters have a verbal fight; a character has a vision/flashback of a long-ago quarrel; a character correlates violent animal deaths with impending violence in families; a character is seen to be dying; a character is subjected to violence and grief while trying to figure out a curse's origin; a character reports someone trying to hit him; a character confronts a ghost; a long-dead character is said to have been a murderer; a character hears screams and breaking glass in a vision; a character is pursued by a vengeful, destructive ghost; a character finds a house in shambles; a character is discovered disoriented, cut and bleeding (not overly graphic); a character has a vision of someone drowning; a character has a vision/flashback of a man beating another younger man, with some description of blood and gore; a character is afraid someone is dead; characters explain how past violence poisoned future generations.
Sex/Nudity: A character jokes that she is ovulating; a married couple are said to be laughing and tickling each other like freshen; characters occasionally hug each other; a character wonders how a boy's kiss will taste; a character reads a book that contains the topic of masturbation; a male and female character frequently touch and kiss each other; a character jokes about someone's sugar daddy; a character suggests someone should flash some boob; a character is mentioned once or twice as leaving his wife for his pregnant mistress; characters read inappropriate sexual material; a character jokes about having no sex drive or genitalia; characters say they have made out/are seen making out/joke about making out with other characters; a character tells someone she is pregnant; a character mentions someone cheating on/abandoning another; a character jokingly asks if someone is wooing her mother; a character confessed having a brief "thing" with someone; a character gives a best friend advice on life and love; two girls have a discussion about romance, kissing, etc.; a married couple sit together with their legs across each other; characters are said to be "grinding" on a dance floor; a male character hints at picking up a male date for homecoming; a character wants to climb into her boyfriend's mouth; male and female characters take off their clothes and go skinny dipping and presumably make out (off-screen sexuality); a male character holds a female character in his arms and they touch and kiss; male and female characters jump naked into a lake together (somewhat sexual); a character wakes up naked (not sexual); a male character hugs a pregnant female character and listens to the baby's heartbeat; a character makes a joke about pregnancy; a character clutches his crotch and whines about needing a bathroom; a character recalls the feel of wind on her naked skin (not overly sexual); a character has a vision/flashback of a boy and girl standing naked together above a waterfall (sexual); a character pulls off a boy's shirt to clean his side (not sexual); characters sometimes tell each other they love each other; characters often hold and comfort each other.
Mature Subject Matter:
Theft, divorce, death of a family member, family feuding, underage drinking, terminal illness, abandonment, paranormal, vengeance, gender/sex identity.
Alcohol / Drug Use:
Beer bottles and cans accumulate on someone's porch; a book dedicates full pages to "brown liquor in crystal glasses"; underage characters sometimes drink alcohol from a flask; characters sip wine; a character is said to have worked at a bar; a character jokes about needing bourbon; a characters says she wants to be drunk; characters break into vacation rentals to swim and get tipsy; characters are said to drink boxed pink wine; a character jokes that the name Wine and Lines sounds like a cocaine reference; character spikes school punch; a dying man demands a shot of scotch neat; a character gives whiskey to teenagers.
Reviewed By Katrina