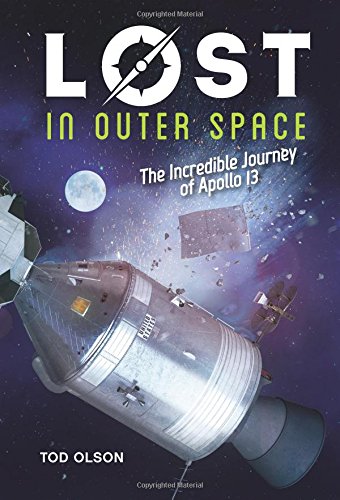 Publisher's Note:
April 13, 1970: Two hundred thousand miles from Earth and counting, an explosion rips through Jim Lovell's spacecraft. The crippled ship hurtles toward the moon at three times the speed of sound, losing power and leaking oxygen into space.

Lovell and his crew were two days from the dream of a lifetime - walking on the surface of moon. Now, they will count themselves lucky to set foot on Earth again.

From "Houston, we've had a problem" to the final tense moments at Mission Control, Lost in Outer Space takes readers on the unbelievable journey of Apollo 13 and inside the minds of its famous and heroic astronauts. Complete with photographs of the crew and diagrams of the spacecraft, this is an up-close-and-personal look at one of the most thrilling survival stories of all time.
This book was sent to Compass Book Ratings for review by Scholastic
Lost in Outer Space: The Incredible Journey of Apollo 13
by Tod Olson
Overall Review:
The story of Apollo 13 has been told many times and in many different ways. The story never gets old though. Lost in Outer Space is no different. Told from a slightly different perspective then other books on Apollo 13, it is an informative read about the harrowing trials and tribulations of three astronauts and the hundreds of NASA staff on the ground during the Apollo 13 mission.
An added perspective to this account is that of Barbara Lovell, the daughter of Jim Lovell. The story includes her thoughts and feelings on being the daughter of a famous astronaut, the toll it took on her life as a teenager, and how she often felt suffocated by the constant media presence focused on her father and family.
Lost in Outer Space is written in clear and simple language. This accounting of Apollo 13 is not as technically-laden as other books written on the topic. It makes for a read that is informative for younger audiences, but still at a level that they will be able to comprehend. The only downfall to this book is the illustrations were in black and white. Throughout the text the astronauts comment on how beautiful and colorful the earth looks from space and it would have been great to have that reflected in the photography splashed throughout the book.
Overall a good read for those wanting to learn more about the Apollo 13 mission and what an integral part of American history the space program was.
Content Analysis:
Profanity/Language: 4 mild obscenities.
Violence/Gore: Secondhand reports of death in plane crash (two); 2-page description of the death of Apollo astronauts in fire; side of space shuttle explodes; rockets explode.
Sex/Nudity: None
Mature Subject Matter:
Death.
Alcohol / Drug Use:
Adults smoke cigarettes.
Reviewed By Beckie