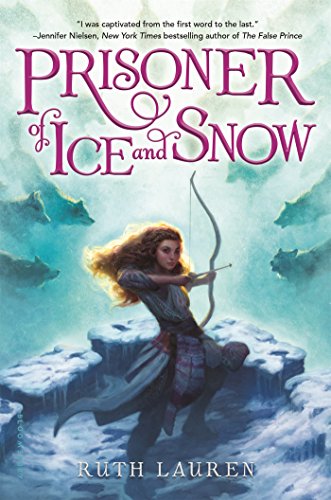 Publisher's Note:
She'll do anything to break her sister out of prison--even get arrested on purpose.
When thirteen-year-old Valor is sent to jail, she couldn't be happier. Demidova's prison for criminal children is exactly where she wants to be. Valor's twin sister, Sasha, is serving a life sentence for stealing from the royal family, and Valor is going to help her escape . . . from the inside.
Never mind that no one has escaped the prison in centuries. Valor has a master plan and resources most people could only dream about. But she didn't count on having to outsmart both the guards and her fellow prisoners. If Valor's plan is to succeed, she'll need to make some unlikely allies. And if the plan fails, she and Sasha could end up with fates worse than prison.
This exciting middle-grade debut effortlessly melds an unforgettable protagonist, a breathless plot, and stunning world-building--and is impossible to put down.
This book was sent to Compass Book Ratings for review by Bloomsbury Children's Books
Prisoner of Ice and Snow
by Ruth Lauren
Overall Review:
Valor's twin sister has been falsely accused and imprisoned. Just how far will Valor go to save her sister? In the debut novel of Ruth Lauren, Prisoner of Ice and Snow, the reader learns just how far Valor is willing to go to rescue her sister, Sasha. Set in the cold tundra of a Russian-like kingdom, Valor lands herself just where she wants to be: a prison like no other and from which no one has ever escaped. That however, is exactly her intention, to get in and help her sister escape, thus enabling her to prove her innocence.
Prisoner of Ice and Snow is an exciting, fast-paced novel with a medieval feel, and plenty of plot twists to keep the reader turning pages. Valor is a smart, loyal, resourceful, courageous girl who will do anything for those she loves. However, she learns that she can't always do it alone and must learn to trust others. As she endures hardships, forms friendships, and doesn't give up, she gets what she wants but not quite how she expected.
Ruth Lauren does an amazing job in transporting the reader to the frozen land of Demidova and creates an exciting novel with a very abrupt ending (here's hoping there are more to come) in Prisoner of Ice and Snow. Her characters are relatable and real, in the sense that the reader can see bits of themselves in each of them. The descriptions and emotions pull the reader in, making this a novel that engages the reader.
Review of an Advance Uncorrected Proof
Content Analysis:
Profanity/Language: None
Violence/Gore: Character shoots at another person with a cross bow; a character is shot at by guards; a character is tackled to the ground; a character is tied up and roughly led to a cell; a character wonders if rumors of kids in prison being used as forced labor and killed are true; character is kicked and knocked to the ground; character almost falls from a cliff to her death; character describes how a prisoner is tortured for trying to escape; frightening scene of wolves chasing a horse drawn cart and attacking the people in it; character tells how a family member drowned; character burns hands when boiling water is spilled; character slams another against the wall and threatens them with an icicle; character threatened by another with a hot iron poker; 2 characters are locked in an ice dome and left out in the freezing cold all night long (4 page description); character knocks a guard unconscious; characters have freezing water dumped on them in an attempt to drown them; character grabbed and gagged and kicks and hits her captors.
Sex/Nudity: None
Mature Subject Matter:
Death, imprisonment of minors.
Alcohol / Drug Use:
None
Reviewed By Sally