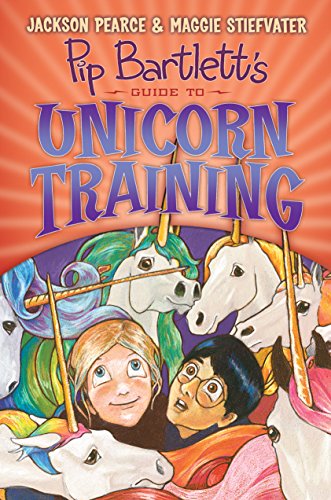 Publisher's Note:
Some things Pip and Tomas will find when dealing with unicorns:
SHOW-OFFS
STAMPEDES
MYSTERY
A UNICORN WHO'S AFRAID OF EVERYTHING
Some things Pip and Tomas will not find when dealing with unicorns:
PEACE AND QUIET
Pip Bartlett has a way with magical creatures. But even she's challenged by Regent Maximus, a unicorn who's afraid of everything. With the help of her friend Tomas, Pip has to get Regent Maximus ready for a big unicorn competition-even if Regent Maximus would rather do anything than compete. Making matters worse, someone mysterious is trying to win the competition by cheating-and if Pip and Tomas don't stop the bad things from happening, it's not only Regent Maximus who'll have reason to be afraid.
This book was sent to Compass Book Ratings for review by Scholastic Press (A Scholastic Imprint)
Pip Bartlett's Guide to Unicorn Training
by Jackson Pearce and Maggie Stiefvater
Overall Review:
Imaginative. Delightful. Silly. Fantastic. Pick any word and it will aptly describe Pip Bartlett's Guide to Unicorn Training. This middle grade read was such an absolute delight to read that readers will quickly run to their local library or bookstore to find more books from this magical set of authors.
Pip and Tomas live in a world much the same as ours…except for one thing. They have all sorts of magical creatures in their world. Each creature special in its own way and with special needs. But the rest of their world is just like ours. School, friends, summer vacation, animal shoes, just your typical, everyday kind of stuff.
But when Pip and her pals get to attend the Triple Trident for the first time (and a Unicorn show is a big deal!!) they set off on a journey of helping a fraidy-cat unicorn and solving the mystery of who could possibly be stealing unicorn tails.
Scattered throughout the book are little vignettes complete with pictures regarding the magical creatures, characteristics and useful info. These snippets make the book that much more enjoyable to read, although with the description in the narrative pictures aren't really needed. The vocabulary is easy to read and younger readers will be enthralled by the action throughout the book. And with Tomas's strange allergic reactions to the various magical creatures, kids will be left in stitches from giggling.
This book is a fantastic read for young audiences. A great bedtime story pick for parents who are ready to send children off to dream world with more than a little fuel.
Review of an Advance Reading Copy
Content Analysis:
Profanity/Language: None
Violence and Gore: Fence explodes when unicorn runs through it; unicorn tails cut off (twice); griffins poke and prod each other in jest; man knocked over by unicorn; man knocked over when fence swings into him.
Sex and Nudity: None
Mature Subject Matter:
Stealing.
Alcohol / Drug Use:
None
Reviewed By Beckie