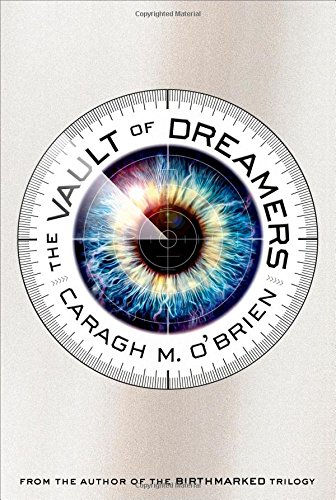 Publisher's Note:
The Forge School is the most prestigious arts school in the country. The secret to its success: every moment of the students' lives is televised as part of the insanely popular Forge Show, and the students' schedule includes twelve hours of induced sleep meant to enhance creativity. But when first year student Rosie Sinclair skips her sleeping pill, she discovers there is something off about Forge. In fact, she suspects that there are sinister things going on deep below the reaches of the cameras in the school. What's worse is, she starts to notice that the ridges of her consciousness do not feel quite right. And soon, she unearths the ghastly secret that the Forge School is hiding?and what it truly means to dream there.
From Caragh M. O'Brien, author of the Birthmarked trilogy comes the first book in a new series, The Vault of Dreamers, a fast-paced, psychologically thrilling novel about what happens when your dreams are not your own.
The Vault of Dreamers
by Caragh M. O'Brien
Overall Review:
Set in the future, under the ever-present camera lens, the characters learn what it means to live in the public eye. Privacy and a quiet place become things to be treasured. This book is a rollercoaster of emotions where the protagonists find themselves dealing with more than they dream possible: conspiracies and psychological games. The main characters are fairly well-developed, likable, and easy to relate to. Although it's a school setting, the book deals with only a handful of students. The book even deals with following rules and consequences.
Rosie, the main character who is telling her story, is determined and inspiring, easy to relate to, and in 10th grade. Even including a touch of romance, the author is mindful of the potential age demographic regarding a budding relationship. Entertaining and engaging are good words to describe the story all the way up to the end. Caragh O'Brien's style of writing is very smooth and 400+ pages flew by without effort. The reader becomes entranced with Rosie, who draws us in by the heart strings, and by the end of the book, there is a need for conclusion and justice yet, sadly, there is none. The reader must get the next book to find out what happens in the end. That is the only reason I will give this book a rating of 4 out of 5. That being said, the story is engaging enough to start the next book immediately.
Content Analysis:
Profanity/Language: 2 derogatory names; 2 anatomical terms.
Violence/Gore: Teen punched in face, blood and facial damage mentioned; teen girls in locker room make fun of large, nude girl; teen girl back-handed by stepfather, grabbed by hair, hurt face, no blood; teen girl committed suicide; mention of multiple teens who committed suicide, no details; transporting dead bodies; teen boy & girl fall off ladder, 1 hurt severely; death of children, in vehicle accident.
Sex/Nudity: Counselor at camp paid unwanted attention to a girl, no personal damage; teen boy & girl kiss several times throughout book, no gooshy details; teen girl mentions her period; suggested that a teen boy had provocative nude pictures taken of him as a young teen, no details other than bare shoulders; teen girls in locker room make fun of large, nude girl.
Mature Subject Matter:
Homosexual parents, death of father, war, abusive stepfather, teen suicide, organ donors, death of children, bullying, medical ethics, medical experiments, teen abduction.
Alcohol / Drug Use:
Sleeping pills & stimulant pills used throughout the book.
Reviewed By Beth