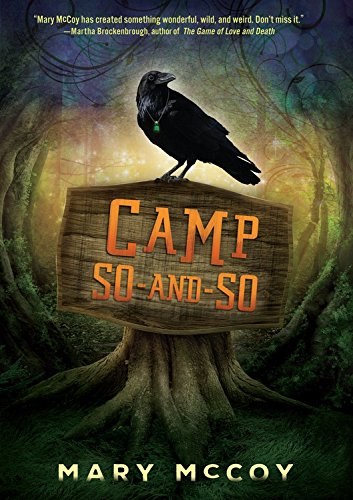 Publisher's Note:
The letters went out in mid-February. Each letter invited its recipient to spend a week at Camp So-and-So, a lakeside retreat for girls nestled high in the Starveling Mountains. Each letter came with a glossy brochure with photographs of young women climbing rocks, performing Shakespearean theatre under the stars, and spiking volleyballs. Each letter was signed in ink by the famed and reclusive businessman and philanthropist, Inge F. Yancey IV.

By the end of the month, twenty-five applications had been completed, signed, and mailed to a post office box in an obscure Appalachian town.

Had any of these girls tried to follow the directions in the brochure and visit the camp for themselves on that day in February, they would have discovered that there was no such town and no such mountain and that no one within a fifty-mile radius had ever heard of Camp So-and-So.
This book was sent to Compass Book Ratings for review by Carolrhoda Lab
Camp So-and-So
by Mary McCoy
Overall Review:
Mary McCoy has written a tour-de-force in her new book Camp So-and-So. The characters are lovable after page one and the entire book has so many twists, turns and surprises that every reader, boy or girl, will find themselves wanting to stay up just a bit later for a few more pages.
Each of the residents of five cabins have come to Camp So-and-So for a week of teenage camping experience. Some are returning campers (or are they?), some are new campers who can't wait, and some would love to be anyplace but here. Each cabin is given a theme, but little do they know that theme will define not just their time at camp, but maybe a bit of who they are.
While all the campers are girls, this book will appeal to boys to. There is action and adventure, mystery and intrigue, a little bit of mischievousness and a whole lot of interesting. Toss in some human, but not human creatures, a scary spider monster, a daring rescue and an explosion and you've got the makings of a book either gender is going to love.
The book is from Carolrhoda, a Lerner teen imprint; however, the younger age set would also find great enjoyment from this book. The vocabulary is pretty easy to read, although there are a handful of words they may be difficult for younger readers. There are a few concepts, such as homosexuality and soul mates, that may not be appropriate for younger readers (see content review below), but minimal detail is provided.
Overall, this is a fantastic read. I would highly recommend it to upper middle grade readers and teens who want a rousing good time. Maybe read it on the way to summer camp…if you dare.
Content Analysis:
Profanity/Language: 1 mild obscenity; 2 derogatory names; 3 scatological words; 2 anatomical terms.
Violence/Gore: Camper bounces off force field; bow and arrow pointed at person's head as mean joke; pushing and shoving; manure dumped on people; multiple verbal threats of harm or death (with no detail); fist fight; character tackles another to the ground; numerous bumps, bruises, scratches and minor broken bones with minimal detail; fall from horse twice; punch to face; vines throw people; magic horse tries to drown young character in lake (unsuccessful); magical ability vaporizes wrist bones; girls battle monster in two page battle with imagery of human injuries and death of monster with blood depictions; shoulder dislocated during fight; monster snatches girl into cave; scary story told of girl shot with arrows; canoe sabotaged; cabin fire; tree house collapses; truck explodes killing man inside (no detail); description of carnage from monster battle; broken bone pokes out of skin; words written in blood; girl found hung (dead) from cabin rafters; gunshots to arm, leg and hand with magical bullets.
Sex/Nudity: Reference to girls in bikinis; hand holding; teens rub legs against each other while sitting; two girls kiss (twice); girls kiss boys (once); shirtless teen boy (twice); character discusses being lesbian.
Mature Subject Matter:
Death, supernatural powers/beings, homosexuality, ethics.
Alcohol / Drug Use:
None
Reviewed By Beckie