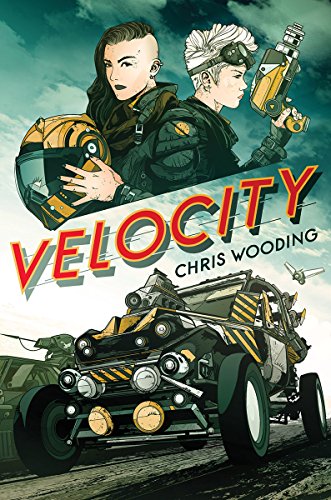 Publisher's Note:
Buckle up for a fast-paced, high-octane thrill ride!

Cassica and Shiara are best friends. They couldn't be more different, but their differences work to their advantage -- especially when they're drag racing. Cassica is fearless and determined, making her the perfect driver for daring, photo-finish victories. Shiara is intelligent and creative, able to build cars out of scrap and formulate daring strategies from the passenger's seat.

Now they've set their sights on the Widowmaker -- the biggest, most anticipated, and most dangerous race of the year. The winners get a pass to a life of luxury and fame. The losers, more often than not, die in fiery explosions. And even if Cassica and Shiara survive the deadly three-day challenge... their friendship might be roadkill.

This breathless reimagining of extreme sports is perfect for fans of Mad Max: Fury Road and NASCAR.
This book was sent to Compass Book Ratings for review by Scholastic
Velocity
by Chris Wooding
Overall Review:
Initially, this seems to be just a book about car racing, and there is plenty of it. With that, of course, comes action and suspense that will get your heart pumping. Velocity would make an excellent action film. There are several incidents with outcomes that are fairly predictable but you won't expect everything that Wooding throws at you. He also paints such vivid and interesting settings in this dystopian world with his descriptive language. Along with the fascinating settings, Wooding created some great characters who really make for an intriguing plot. The two main characters, Cassica and Shiara, are especially exceptional, and their relationship dramas are very emotional and authentic. He also brings in the (perfectly) overly-dramatic bad guys who will probably remind you of WWF wrestlers. If you are a fan of The Hunger Games, you'll likely enjoy Velocity as there are many things that are similar in both. For those who prefer a little softer side, Wooding brings that in with some romance here and there. Velocity is a well-rounded story that will appeal to a wide YA audience.
Content Analysis:
Profanity/Language: 47 mild obscenities; 4 anatomical terms.
Violence/Gore: Many (63) brief incidents including references to violence that could occur; character nearly burned; characters want to hit another; reference to characters wanting to see people die; character jokes about wanting to die; character could get kidnapped; verbal threats; reference to human character who wears a coat of human skin; second-hand report of person eating a pregnant cat; reference to person who had ears and mouth sewn up in protest; reference to character getting beaten; second-hand reports of racers getting hurt and killed; reference to an earthquake and tsunami; reference to weapons and killing in a race; second-hand reports of fighting and killing; character has preserved human finger as key ring; bloodstain from what must've been a dead person; reference to flesh-eating gas; second-hand reports of characters' parents dying; references to cars exploding; references to war; second-hand report of character being suicidal; character has self-inflicted scars; character pushed and knocked over (no injuries); character has a dream about mother dying; characters hallucinate and one nearly shoots the other; characters are attacked by mechanical objects and cars are sucked underground; characters fighting; character kidnapped; characters get shot at; cars smash into each other; many cars crash; a few (9) brief incidents of characters getting killed while racing.
Sex/Nudity: Several (15) brief incidents including arm around; flirting; kissing; holding each other; reference to character wanting to "jump him"; innuendo; reference to characters cheating on each other; second-hand report of catcalls; reference to "race sexy"; character wears what is mentioned to be an immodest dress; character pushes up against and kisses another character; reference to character telling dirty jokes.
Mature Subject Matter:
Parental abandonment, adoption, war, kidnapping, death, murder, cheating, poverty, reference to suicide.
Alcohol / Drug Use:
Several incidents of characters drinking at bars and parties; reference to character rolling a cigarette; character smokes; second-hand report of characters being on drugs.
Reviewed By Jenny