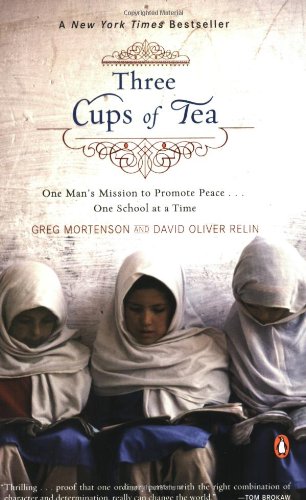 Publisher's Note:
The astonishing, uplifting story of a real-life Indiana Jones and his humanitarian campaign to use education to combat terrorism in the Taliban's backyard
Anyone who despairs of the individual's power to change lives has to read the story of Greg Mortenson, a homeless mountaineer who, following a 1993 climb of Pakistan's treacherous K2, was inspired by a chance encounter with impoverished mountain villagers and promised to build them a school. Over the next decade he built fifty-five schools—especially for girls—that offer a balanced education in one of the most isolated and dangerous regions on earth. As it chronicles Mortenson's quest, which has brought him into conflict with both enraged Islamists and uncomprehending Americans, Three Cups of Tea combines adventure with a celebration of the humanitarian spirit.
This book was sent to Compass Book Ratings for review by Penguin Group
Three Cups of Tea: One Man's Mission to Promote Peace...One School at a Time
by Greg Mortenson
Overall Review:
To be honest, I avoided reading this book when my book club discussed it a few years ago. I just couldn't face the guilt I suspected would assail me upon reading about Greg Mortenson's many accomplishments. I was afraid it would make my life feel small and insignificant. I couldn't have been more wrong. This book was not about applauding one man, but about getting a message out to the world, a message about the importance of education for all children.
At the same time, it educated me about a part of the world I knew practically nothing about. I learned basic facts about the region of central Asia and it's geography. I learned how politics and governments work (or don't work). But, most of all, I learned how being humble enough to learn from those we work with can make all the difference to our success. I was greatly touched by Greg's relationship with Haji Ali who was chief of the village where he built his first school. Readers will be grateful to walk a few steps with them as "Dr. Greg" learns and grows from the wise words of this man. More than anything else though, the reader can catch Mortenson's vision of a world being changed by reaching out to children everywhere and teaching them to read, write, and dream.
Three Cups of Tea is beautifully written and some of the descriptions within it's pages took my breath away. It is a marvelous compliment to say that the writing is worthy of the story being told. It is an incredible story.
Note-- Three Cups of Tea: Young Reader's Edition is also available.
Content Analysis:
Profanity/Language: 1 religious exclamation; 2 mild obscenities; 1 derogatory name; 2 scatological words.
Violence/Gore: Brief descriptions of injuries and deaths that have occurred while mountain climbing; brief but detailed description of a ram being sacrificed in a religious ceremony; mild gore when men hunt and shoot an ibex; second hand reports of murder and assassination; a second hand report of an execution of a group of men, done while their wives and children watched; extended scene describing the bombing of a village where "bodies and body parts" are mentioned, generally with no detail; a mugging occurs; second hand reports of injuries from land mines exploding; brief description of one man beating another man unconscious; extended description of a kidnapping where a man is taken at gun point; extended scene in which men are caught in the crossfire of drug smugglers, but are not injured. (Please note that stories of war are threaded throughout the book but descriptions of violence/gore are usually brief and, for the most part, are not graphic.)
Sex/Nudity: A man and woman kiss; a man hears people engaging in sexual activity; a second hand report of a man using something refered to as 'temporary marriage' to gain sexual partners; two occurences of sexual innuendo; two occurences of reported sexual activity with no details provided; a sheer negligee is mentioned briefly.
Mature Subject Matter:
Religious and racial social conflict; war; death; suicide bombing; illegal drugs; smuggling; prostitution; terrorism
Alcohol / Drug Use:
Brief mention of alcohol at a party; many instances of men smoking cigarettes, pipes, and hashish; extended description of the opium trade; illegal drugs such as heroine are mentioned; alcohol such as wine, champagne, and Chinese vodka are mentioned; chewing tobacco is used by several men; one man is described as a chain-smoker who drinks alcohol 'ceaselessly.'
Reviewed By Ambra