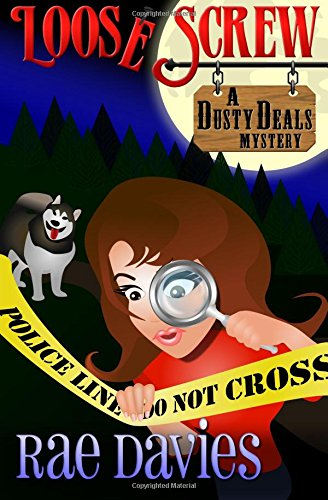 Publisher's Note:
Fun, romantic, cozy mystery featuring amateur sleuth and antique store owner, Lucy Mathews. Lucy and her dog find romance and murder in the mountains of Montana. Lucy Mathews, crime reporter turned antiques dealer, avoids confrontation like a home perm. She even lets a cat shove her around. When Lucy trips over the body of a buckskin-clad relics trader, her ex-boss asks her to cover the story. She tries to tell him no, but old habits die hard and soon she finds herself directly in the path of a killer and the exasperating, if attractive, detective in charge. Can Lucy catch a killer or is this the last confrontation for her—period? Other books by Rae Davies: -Dusty Deals Mystery Series- Loose Screw Cut Loose Loosey Goosey Let Loose Lucy and the Valentine Verdict (novella) Loose Lips Loose & Lethal (Box Set Books 1 -3) -Romances- Love is All Around Love is All You Need For more updates, sign up for Rae's newsletter at her web site.
Loose Screw, A Dusty Deals Mystery
by Rae Davies
Overall Review:
Loose Screw is a fun book. The characters are well-developed and easy to relate to. The main character, who is an amateur sleuth, is funny and engaging, yet has enough flaws to be realistic. At times, her humor had me laughing out loud. Along with her buddies and a few odd characters, the book was an entertaining read. The details poured into this story are impressive. They paint great mental images but they aren't overdone to the point of boredom. The pacing of the storyline flows quickly and there is even an unexpected romance budding that is fun to see develop. Living up to the Cozy Mystery standard, the content is relatively mild (see below content review). I look forward to reading the next book in the series.
Content Analysis:
Profanity/Language: 19 mild obscenities; 1 derogatory name; 2 scatological words; 10 anatomical terms.
Violence/Gore: Man stabbed resulting in death, blood mentioned, minor details; dead & dried out weasel, brief descriptions, minor grossness; man threatens harm to woman & dog; woman hits man on head with hard object; woman hits man on forehead with hard object.
Sex/Nudity: Mention of a prostitute; mention of Michelangelo's naked David, no details given; a somewhat descriptive kiss with bodies touching between man & woman; light kiss on the lips between man & woman; brief mention of a buffalo penis used by an Indian medicine man; character reads a book mentioning orgasms, no details.
Mature Subject Matter:
Murder, stealing, lying, breaking & entering.
Alcohol / Drug Use:
Characters drink alcohol throughout the book; herbs used to clean spirits.
Reviewed By Beth