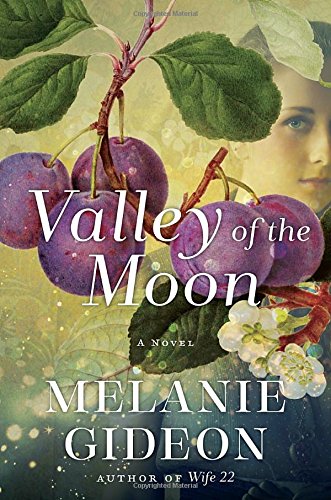 Publisher's Note:
The author of the critically acclaimed Wife 22 has written a captivating novel about a love that transcends time—perfect for readers of The Time Traveler's Wife, Time and Again, and the novels of Alice Hoffman.

San Francisco, 1975. A single mother, Lux Lysander is overwhelmed, underpaid, and living on the edge of an emotional precipice. When her adored five-year-old son goes away to visit his grandparents, Lux takes a solo trip to Sonoma Valley—a chance to both lose herself and find herself again.

Awakened at midnight, Lux steps outside to see a fog settled over the Sonoma landscape. Wandering toward a point of light in the distance, she emerges into a meadow on a sunny day. There she meets a group of people whose sweetly simple clothing, speech, and manners almost make them seem as if they are from another time.

And then she realizes they are.

Lux has stumbled upon an idyllic community cut off not only from the rest of the world but from time itself. The residents of Greengage tell a stunned and disoriented Lux that they've somehow been marooned in the early twentieth century. Now that she has inexplicably stepped into the past, it is not long before Lux is drawn in by its peace and beauty.

Unlike the people of Greengage, Lux discovers that she is able to come and go. And over the years, Lux finds herself increasingly torn between her two lives. Her beloved son is very much a child of the modern world, but she feels continually pulled back to the only place she has ever truly felt at home.

A gorgeous, original, and deeply moving novel about love and longing and the power that time holds over all of us, Valley of the Moon is unforgettable.
This book was sent to Compass Book Ratings for review by Ballantine Books
Valley of the Moon
by Melanie Gideon
Overall Review:
Valley of the Moon by Melanie Gideon is totally engrossing. The novel has a little bit of everything -- romance, mystery, adventure, history, and even time travel. Gideon is a master storyteller who gives the story a magical and ethereal feel. The story takes place in frequently changing and diverse time periods and yet each setting is meticulously detailed and well-researched. The plot is well-paced and the story is easy to understand despite a complicated storyline and multiple characters. Main characters Lux and Joseph are compelling and likable individuals, but the secondary cast steals the show. Readers will particularly adore Lux's son Benno, best friend Rhonda, and Joseph's sister Fanny. With something for everyone, Valley of the Moon is highly recommended!
Review of an Advance Reader's Copy
Content Analysis:
Profanity/Language: 63 religious exclamations, 28 mild obscenities, 10 religious profanities, 5 derogatory names, 6 scatological words, 7 anatomical terms, 20 f-word derivatives.
Violence/Gore: A few secondhand reports of violence including death in battle, suicide and casualties from an earthquake; a character punches another; a few non-detailed scenes of violent death, including suicide.
Sex/Nudity: A few incidents of kissing; a few sexual references in regards to puberty; a few implied incidents of sexual activity involving (between) minors and an incident resulting in pregnancy; a brief incident of touching areas normally covered by a bathing suit between an adult and a minor; a few mature discussions regarding sex; a brief incident of consensual sexual activity without explicit detail between an adult and minor; a brief yet explicit description of sex between adults.
Mature Subject Matter:
Death of loved ones, suicide, homosexuality, cancer, institutionalization in a mental hospital against one's will, abandonment, political rallying, underage drinking, war, drug use, mention of abortion.
Alcohol / Drug Use:
Frequent smoking and drinking; underage drinking and a minor becomes drunk; a scene where characters smoke pot.
Reviewed By Rachel