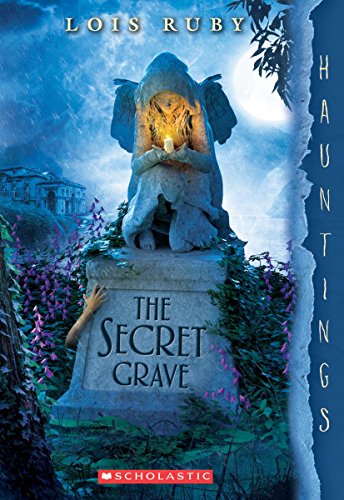 Publisher's Note:
Nightshade can be deadly.

Hannah and Scooter's sprawling, ramshackle house is named for the lethal plant that grows in the dark woods behind it. Hannah knows she's not supposed to explore the forest or nearby Moonlight Lake. But she's feeling lonely and desperate for an adventure. And there Hannah meets Cady, a mysterious girl who promises everything Hannah's been missing. Only Cady has a secret:

Cady wants Hannah all to herself.

Soon Cady is copying Hannah's style so they can be more alike. She lies to Hannah's friends, insults Scooter, and begs Hannah to break her parents' rules and sneak out for a midnight swim. Hannah wants to believe Cady's just a little insecure. But when she discovers a cemetery beyond the lake with an eerily familiar headstone, she must decide whether to trust her new friend or dig for answers that may lead her to a watery grave . . .
This book was sent to Compass Book Ratings for review by Scholastic
The Secret Grave: A Hauntings Novel
by Lois Ruby
Overall Review:
The Secret Grave by Lois Ruby is a simple, ghostly mystery for young readers. It is easy to read, and the first person point of view has a nice, authentic 12-year-old ring to it. The main character, Hannah Flynn, is the middle child in a pleasantly big family, and while she can be a typical preteen, she's never overly bratty and speaks with the believable kind of sass one only acquires by being part of a big family.
It is the Flynn's first summer in Georgia, and Hannah is facing a lonely summer on her own, with her two best friends off on fantastic vacations, her older sister prepping to leave for college, and her favorite brother sick with aggressive asthma. So, when she meets the mysterious Cady, a free-spirited girl her own age who claims to live in the woods, Hannah is intrigued. But the more she hangs out with Cady, the more questions she has. For instance, where are Cady's parents? Why is she trying to look exactly like Hannah? And who exactly are these honest and true friends of Cady's that Hannah never gets to meet? Hannah needs to figure out the answers, and quickly, before Cady's obsession with her pulls her into a situation she might not survive.
When I started this book, I had been expecting something more frightening, perhaps along the lines of The Dollhouse Murders. But The Secret Grave is not quite so unsettling. It's a little more predictable, with some fairly obvious twists and nothing over-the-top scary, but despite that it does manage to pack a few surprises. For young readers who are eager for a tale of ghosts, hauntings, and some mild creepiness, this is an overall enjoyable read.
Content Analysis:
Profanity/Language: 1 religious exclamation.
Violence/Gore: A character is often uneasy at another's strangeness; a character tells a story about someone's past accident; a character frequently senses a presence in a room; characters almost eat belladonna berries; a character thinks she sees an image blink; characters are haunted by a ghost, with an incident of aggression; characters discover/visit a children's graveyard; occasional reports/discussions of characters' past deaths; a building burns down; a character is lured to a lake and almost drowns; characters discuss dangerous past events; a character relates the details of her parents' and aunt's deaths.
Sex/Nudity: Characters tease someone about a boy; a character thinks about a crush; a character confesses to once kissing a boy; a character relates that all the girls have a crush on someone; a character complains about getting dumped by a boy.
Mature Subject Matter:
Paranormal, lying, deceit, theft, haunting, death, serious illness.
Alcohol / Drug Use:
None
Reviewed By Katrina