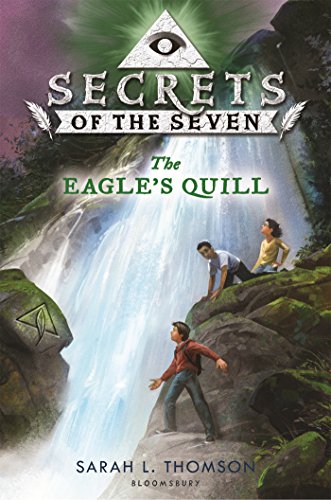 Publisher's Note:
Middle school geniuses Sam, Martina, and Theo head to Glacier National Park to find the second of seven artifacts--keys that unlock a secret weapon--left by the country's Founding Fathers. The clues lead them to look for Thomas Jefferson's Eagle's Quill at a Montana ranch. But dangerous Gideon Arnold, descendant of the infamous Benedict Arnold, is hot on their trail. He takes their chaperone and the ranch owners hostage until the kids deliver the quill. Can Sam, Martina, and Theo, with the help of rancher girl Abby, find Jefferson's artifact before it's too late? They enter the wilderness to solve riddles and escape traps that protect the quill . . . but if they find it, can they keep it away from Arnold andsave everyone?
In this fast-paced adventure full of action and interactive puzzles, the kids and readers must use their wits to save our nation by uncovering its greatest secrets.
This book was sent to Compass Book Ratings for review by Bloomsbury Children's Books
The Eagle's Quill
by Sarah L Thomas
Overall Review:
For those readers who love history and mystery, along the lines of the National Treasure movies, the second novel in the Secrets of the Seven series, titled The Eagle's Quill by Sarah Thomas is the perfect book/series for them. As Sam, Martina and Theo, all middle schoolers, are on a quest to find seven items that are linked to the Founding Fathers. These seven items have been protected by the descendants of seven founders, but a descendent of Benedict Arnold is after them as well. This leads to not only excitement but also a little danger.
This second book in the series takes the kids to a ranch in Montana in search of Thomas Jefferson's quill. As they are being chased by thugs, they have to solve clues and riddles that lead them across the country side. With all that is going on they have to learn to trust one another and work together. In the end, things don't turn out quite as expected, but they certainly have learned and grown together as a team, which will help them in the long run as they search for more items. So if you have a lover of history that likes a little excitement, The Eagle's Quill and the series Secrets of the Seven is right up their ally.
As stated, The Eagle's Quill is the second in the series, and it is probably best to start with the first book of the series, as there is some backstory that seems to be missing.
Content Analysis:
Profanity/Language: None
Violence/Gore: Secondhand account of being put in dangerous situations because of being chased by someone; person hits someone in the face; man pulls a gun and points it at some kids; character uses karate to disarm someone; character tackles someone to the ground; character points a rifle at someone; three characters abducted; bomb set off that results in destroying part of a house; people ransack a house looking for some people; character says that she will kill someone to make them pay for something they've done; characters told to do something or else a person would kill their parents; character dangles over the ledge of a ravine after being chased.
Sex/Nudity: None
Mature Subject Matter:
None
Alcohol / Drug Use:
None
Reviewed By Sally