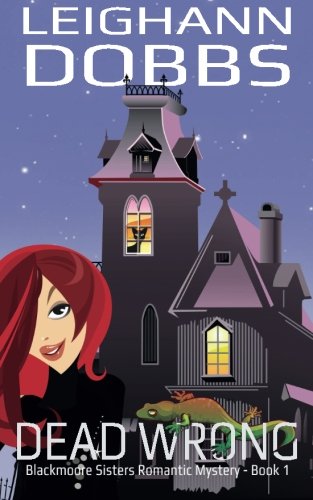 Publisher's Note:
**** Nominated Best Mystery Romance in the 2014 Indie Romance Convention Awards ****
There's more than one secret in the old Blackmoore house. Some have been buried for a long time and some are sitting closer to the surface.
Morgan and Fiona Blackmoore enjoy their simple life in the sleepy ocean-side town of Noquitt Maine where they offer herbal remedies and crystal healing for locals and tourists alike.
...Until Morgan is accused of killing the town shrew, Prudence Littlefield.
Suddenly the girls find themselves scrambling to find the real killer while they battle a crooked Sheriff, planted evidence, and a long list of suspects that all had a reason to want Prudence dead.
Handsome Jake Cooper is new to the Noquitt Maine police force, which is exactly why Fiona Blackmoore doesn't trust him. But with time running out and the evidence against her sister piling up, Fiona has to make a choice - will she trust Jake with her sisters case ... and her own heart?
Add in an old mansion on the cliffs of Maine, an attic full of mysterious treasures, and a cat that has the uncanny ability to show up at exactly the right time and Fiona has her hands full proving the Sheriff's accusations about her sister being a murderer are Dead Wrong.
Dead Wrong
by Leighann Dobbs
Overall Review:
In need of a short and easy mental vacation? Then this is your book. The story is light and flows easily. The characters are well-rounded yet it didn't take a lot of mental energy to follow their growth. Living up to the cozy mystery standard, there is a little kissing and language but overall it is kept in check. With a touch of budding romance, the mystery has enough variety to keep it interesting. Family ties are important and sisterly bonds are strengthened and secured throughout the story. As a side note, a cat acts a bit like a familiar and the use of gemstones and herbs are used in a mystical endeavor. The pacing isn't fast, yet the story breezed through for a quick read. This book stands alone well, yet with seven more books in the series, the next looks promising.
Content Analysis:
Profanity/Language: 2 religious exclamations; 2 mild obscenities; 1 scatological words; 2 anatomical terms.
Violence/Gore: Woman accused of being a witch; character murdered, no gory details; man aims loaded shotgun at woman; character killed, mention of blood & minor gory details.
Sex/Nudity: Mention of impotence; undescribed mental picture of 2 people together; a cute man in jeans & woman wonders what's inside them; a lightly detailed French kiss; man wraps woman in hug & hangs on; man & woman are close and she hopes for a kiss.
Mature Subject Matter:
Murder, family feud, crystal healing arts, suicide, death of parent, cat who acts like a familiar.
Alcohol / Drug Use:
None
Reviewed By Beth