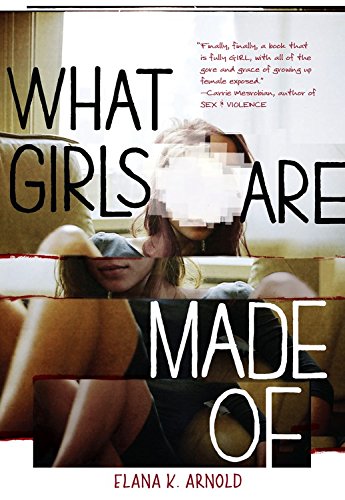 Publisher's Note:
When Nina Faye was fourteen, her mother told her there was no such thing as unconditional love. Nina believed her. Now she'll do anything for the boy she loves, to prove she's worthy of him. But when he breaks up with her, Nina is lost. What is she if not a girlfriend? What is she made of? Broken-hearted, Nina tries to figure out what the conditions of love are.
This book was sent to Compass Book Ratings for review by Lerner Publishing Group
What Girls Are Made Of
by Elana K. Arnold
Overall Review:
What Girls are Made Of is not for the faint of heart. This book is dark, hard to read in places, and at times will make you want to put it down. It definitely is not a book for younger readers and should be read with caution by older readers as well.
Part of what would have made this book much better in my view is if the author's note at the end, which did a great deal to explain why the book was written as it evolved, was placed at the beginning of the book. I think it also would have provided context to the reader regarding the nature of what they were about to read.
The story line is not linear. The book does a lot of jumping back and forth in the timeline and I did find that a bit harder to follow. It took me until the end of the book to understand that the vignettes sprinkled throughout the book were part of a writing project that Nina, the main character, was putting together for a high school class.
The last couple of pages of the book have Nina redefining herself and stepping out to not be defined by others. I would have loved to see that happen earlier in the book and explore how she went about this metamorphosis. I think she would have not only been more likable as a character, but it would have afforded the opportunity to maybe recommend this work to younger readers.
This is a gritty, hard-core look at the uglier aspects of femaleness. Filled with angst, graphic details, and dark imagery this book should be read with caution and awareness of content (see below content review).
Content Analysis:
Profanity/Language: 6 religious exclamations, 5 mild obscenities, 5 derogatory names, 11 scatological words, 5 anatomical terms, 13 f-word derivatives.
Violence/Gore: Story told of girl being decapitated; recall of domestic abuse with injuries to adult (no details); story of farmer crushing deformed chick in hands; description of museum with body parts and instruments of torture with graphic detail of how some instruments were used (3 pages); story of girl who has gaping holes develop over body with blood depictions (2 pages); dog is euthanized after being tortured (no depiction of torture, just catalog of injuries); 3 page discussion of abortion process and options; 3 page discussion of blood and aftermath of abortion; 2 page story telling of girl who was whipped and tortured with graphic detail; 1 page detailed discussion of girl's first menstrual cycle; brief discussion of how a dog is disposed of once euthanized.
Sex/Nudity: Teen kiss (3 times); teen undresses for pelvic exam, graphic detail of first pelvic exam; discussion of sexually transmitted diseases; three references to giving or describing act of oral sex; reference to male teacher being a homosexual; multiple references to orgasms; two page discussion of various methods of birth control; teen males hands on female hips or thigh while clothed; reference to girl being sent to brothel; teen boys view sex doll on internet; teen girl answers door in bra and thong; teen boy gives teen girl a vibrator; graphic depiction of teen girl using vibrator (2 pages); teen girls build sex doll on internet (graphic depiction); adult male repairs sex doll; 2 page graphic story of teen girl performing oral sex on teen guy.
Mature Subject Matter:
Death of animals, animal euthanasia, abortion, unwanted pregnancy, divorce, physical domestic abuse, miscarriages, emergency contraception, sex.
Alcohol / Drug Use:
Adults drink various forms of alcohol; teen drinks wine with parent to point of drunkenness; teens drink at dinner party; teens smoke marijuana.
Reviewed By Beckie