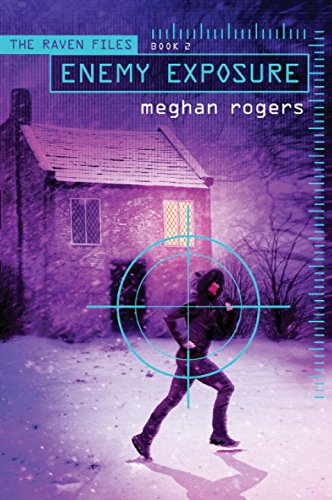 Publisher's Note:
A spy and action thriller featuring a teenage girl who kicks butt and outsmarts with the best of them. To accomplish her mission, though, she'll need to team up with those she trusts the least in this latest Raven File case.

Jocelyn Steely (code name: Raven) may have escaped the clutches of KATO and won the trust of the IDA, but she isn't out of danger yet. Her cover is blown and KATO agents are after her, but that won't stop Jocelyn. After all, her goal was never merely to escape KATO. She wants revenge.

Dead set on rescuing the one girl that she—and the IDA—failed to save, Jocelyn is forced to recruit other KATO agents to her side. She must hand over just enough intelligence to gain their trust, while still preventing her plans from getting back to her former tormentors. Is she out of her league in this battle? Or does she have what it takes to derail KATO once and for all?

This high-stakes spy thriller will have readers on the edge of their seats until the final mind-blowing revelation.
This book was sent to Compass Book Ratings for review by Philomel
Enemy Exposure (The Raven Files Book 2)
by Meghan Rogers
Overall Review:
It's rare to read a story about a kick-butt protagonist who is also vulnerable and humble, but that's what you'll get with Jocelyn Steely in Enemy Exposure. Jocelyn's part of a diverse spy team who support each other and work well together. Author Meghan Rogers even brings several surprise characters into the mix to join Jocelyn's team and with them come many complications to the plot. I love how this story wasn't just about some spies who completed every mission without a hitch. Several obstacles were thrown their way, many of which were either impossible to handle or nearly so. The story also covered some serious issues such as drug addiction, kidnapping, and slavery, to name a few, but Rogers included them with limited details so it didn't feel too overwhelming. Having not read book one, I was worried that I would be a bit in the dark but there are several flashbacks to fill you in on what you may have missed. As expected of a spy story, plan on some serious nail-biting scenes that you'll be racing through. This is book two of a series (I'm not sure how many are in the series) and Rogers really leaves us hanging at the conclusion so let's hope she completes book three quickly!
Review of an Advance Reading Copy
Content Analysis:
Profanity/Language: 3 mild obscenities; 1 scatological word; 2 f-word derivatives.
Violence/Gore: Many (52) brief incidents including character wanting to hurt others; character jokes about killing another; character imagines having nails pulled off; character says a mission is suicidal; verbal threats; threatened with gun several times; character remembers being at gunpoint; secondhand reports of murder; references to kidnappings; secondhand reports of fighting; references to torture; secondhand report of characters dying in car accident; reference to characters being in a labor camp; reference to characters getting knocked out; secondhand report of character getting burned; secondhand report of character passing out from drug overdose; character put in headlock; character punched in the face; car hit with missile leaving one passenger unconscious with a broken arm; characters fighting and one gets skimmed with tranquilizer; character gets syringe put in neck; characters knocked out; three non-detailed scenes of murder.
Sex/Nudity: A few (7) brief incidents including hand on back, legs, and arm; holding hands; arm around.
Mature Subject Matter:
Murder, kidnapping, drug addiction, torture (secondhand).
Alcohol / Drug Use:
Reference to character taking pain medication; several references and some instances of characters getting injected with a drug and being addicted to it; character receives acupuncture treatment several times; drug overdose.
Reviewed By Jenny