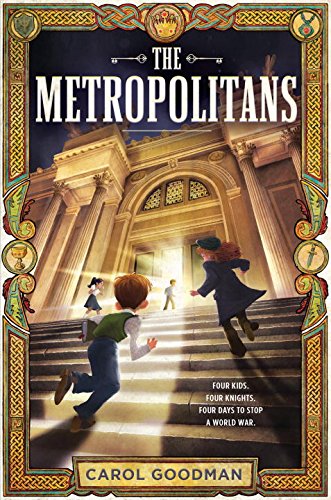 Publisher's Note:
From the Mixed-Up Files of Mrs. Basil E. Frankweiler meets The Apothecary in this time-bending mystery from bestselling author Carol Goodman!

The day Japan bombs Pearl Harbor, four thirteen-year-olds converge at the Metropolitan Museum of Art where an eccentric curator is seeking four uncommonly brave souls to track down the hidden pages of the Kelmsbury Manuscript, an ancient book of Arthurian legends that lies scattered within the museum's collection, and that holds the key to preventing a second attack on American soil.

When Madge, Joe, Kiku, and Walt agree to help, they have no idea that the Kelmsbury is already working its magic on them. But they begin to develop extraordinary powers and experience the feelings of King Arthur, Queen Guinevere, Morgan le Fay, and Lancelot: courage, friendship, love...and betrayal. Are they playing out a legend that's already been lived, over and over, across the ages? Or can the Metropolitans forge their own story?
This book was sent to Compass Book Ratings for review by Viking
The Metropolitans
by Carol Goodman
Overall Review:
Walt, Madge, Joe and Kiku are from completely different worlds: a German-Jewish refugee, an Irish orphan, a Native American runaway and the daughter of a Japanese scholar. Four people who would never have met if not for the call of a magic book. Now united, will they come together and answer King Arthur's call? Or will their differences destroy them?
Myth, magic and mysteries abound in Carol Goodman's The Metropolitans. Goodman serves up readers an exciting, fast-paced adventure with four unlikely heroes and even unlikelier friends. With New York, just after the attacks on Pearl Harbor, as its backdrop Goodman does a masterful job of creating a level of urgency that illustrates exactly how high the stakes are for our heroes, while at the same time balancing it with superb character development, helping to keep the story relatable and appropriate for her targeted age group. The author beautifully captures the tone of Arthurian myths and legends, seamlessly blending the ancient and modern. This results in a tale that is simultaneously unique and yet familiar and timeless.
With an ending that provides the reader with closure while at the same time perfectly setting up the continuation of the series, The Metropolitans is an absolute must read.
Review of an Advance Reading Copy
Content Analysis:
Profanity/Language: 1 religious exclamation; 2 mild obscenities. Not tallied: Several instances of racial slurs used within the historical context of the time period.
Violence/Gore: Man jumps off bridge; many references to girl's mother dying; indirect references to severe depression ("gone to pieces, etc.); several references to abuse by school staff; boy beats man with strap; girl slaps boy's back; many references to holocaust violence and deaths; reference to burning books; man collapses; boy sustains several bruises and contusions during fights; reference to execution of traitor; in a dream knights battle, ends in decapitation (stated, no description); reference to statue biting off limbs; many references to terrorist attack on city; boy wishes he could punch Hitler; boy punches other boy; boy tells of punching man; girl kicks man; reference to mythical creatures battling; several references to imminent death; references to killing the enemy; woman killed with arrow; boy nearly hit by car; children fall off catwalk; man jumps from structure; extended battle scene with a mythical monster
Sex/Nudity: Young people hold hands several times; a few references to men and women kissing; humorous reference to nude statues.
Mature Subject Matter:
War, death, identity, espionage.
Alcohol / Drug Use:
Several references to adults drinking; man smokes a pipe.
Reviewed By Amberle