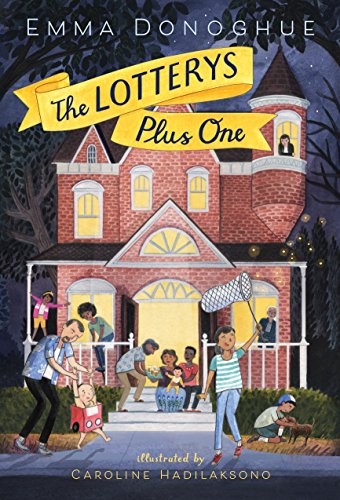 Publisher's Note:
Lumac Lottery is nine years old and the self-proclaimed "good girl" of her (VERY) large, (EXTREMELY) unruly family. And what a family the Lotterys are: four parents, children both adopted and biological, and a menagerie of pets, all living and learning together in a sprawling house called Camelottery. Then one day, the news breaks that one of their grandfathers is suffering from dementia and will be coming to live with them. And not just any grandfather; the long dormant "Grumps," who fell out with his son so long ago that he hasn't been part of any of their lives.

Suddenly, everything changes. Sumac has to give up her room to make the newcomer feel at home. She tries to be nice, but prickly Grumps's clearly disapproves of how the Lotterys live: whole grains, strange vegetables, rescue pets, a multicultural household... He's worse than just tough to get along with -- Grumps has got to go! But can Sumac help him find a home where he belongs.
This book was sent to Compass Book Ratings for review by Scholastic
The Lotterys Plus One
by Emma Donoghue, Caroline Hadilaksono
Overall Review:
The Lotterys Plus One by author Emma Donoghue is almost like two parallel novels in one. On the one hand, it's an insightful novel examining what it's like for a family to take in an elderly parent that is dealing with dementia/Alzheimer's. As the Lotterys take in one of their grandparents, their lives are disrupted and there are many adjustments to make. It's all seen through the eyes of 9-year-old Sumac. At first, she tries to help Iain, whom they've dubbed Grumps, adjust, but then she realizes nothing makes him happy and then tries to devise ways to get rid of him. The fact that the Lotterys consist of four parents and seven children as well as a menagerie of animals makes it all a little more exciting and the adjustment all that more difficult. Throughout the novel, there is much insight given into how to adjust and deal with the challenges that come with an elderly parent in the throes of dementia.
The other part of the novel is more of a social commentary towards what is considered modern-day thinking. The novel starts out with the sentence "Once upon a time, a man from Delhi and a man from Yukon fell in love, and so did a woman from Jamaica and a Mohawk woman", thus making this novel as diverse as possible. The Lotterys, which is the name the four of them took on after hitting the jackpot by winning the lottery, also have seven quite diverse children that came to them in as just as many possible ways. Their winnings allow them to live together in a huge Victorian house in Toronto and have the kind of lifestyle that encompasses all things open-minded and free-thinking. They "unschool" the kids, send them to adventure/outdoors camps, walk or bike everywhere (because cars are bad for the environment), do pro bono legal work, and run a community garden, among other things. The grandfather that comes to stay is viewed as close-minded and 'conservative' which causes a lot of the tension. By the end, however, they start to see eye to eye and their differences bring them together.
All in all, The Lotterys Plus One is a well-written and creatively thought-out novel that adds insight to dealing with dementia. The relationships between everyone in the Lottery family are in a way realistic and typical of a big family. There are comical moments between siblings as well as comical moments because of their lifestyle. However, the one problem with the novel is that Sumac is a 9-year-old that acts like an 18-year-old in intellect and maturity. However, for all of the parents open-mindedness, they put the responsibilities of a much older person on poor Sumac, expecting her to deal with and make all of the changes that come with their grandfather coming to live with them, yet don't make allowances when she chooses to act like a 9-year-old.
Content Analysis:
Profanity/Language: 1 anatomical term.
Violence/Gore: Mention from a history lesson of people being used as human sacrifices; secondhand account of baby having been shaken and that is why he has delayed abilities; man accidently steps on baby's arm while playing a game blindfolded.
Sex/Nudity: There are 2 same sex couples that are the parents in this novel; 2 women embrace (in a romantic couple kind of way) and one strokes the hair of the other in comfort; mention of girl walking around naked; girl kisses a boy.
Mature Subject Matter:
Homosexuality, dementia.
Alcohol / Drug Use:
Man smokes cigarettes several times throughout the novel; mention of having too much tequila and being drunk.
Reviewed By Sally