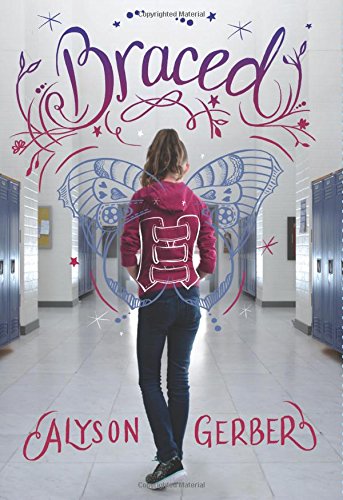 Publisher's Note:
Rachel Brooks is excited for the new school year. She's finally earned a place as a forward on her soccer team. Her best friends make everything fun. And she really likes Tate, and she's pretty sure he likes her back. After one last appointment with her scoliosis doctor, this will be her best year yet.

Then the doctor delivers some terrible news: The sideways curve in Rachel's spine has gotten worse, and she needs to wear a back brace twenty-three hours a day. The brace wraps her in hard plastic from shoulder blades to hips. It changes how her clothes fit, how she kicks a ball, and how everyone sees her--even her friends and Tate. But as Rachel confronts all the challenges the brace presents, the biggest change of all may lie in how she sees herself.

Written by a debut author who wore a brace of her own, Braced is the inspiring, heartfelt story of a girl learning to manage the many curves life throws her way.
This book was sent to Compass Book Ratings for review by Scholastic
Braced
by Alyson Gerber
Overall Review:
In her debut novel, Braced, author Alyson Gerber gives a realistic account of what it's like to have scoliosis, based on her personal, real-life experience, On the surface, this novel appears to give an account of what it's like to go through the ordeal of wearing a brace through the eyes of 12-year-old Rachel. While Rachel is dealing with the pressures and drama of middle school, as well as trying her hardest to earn the spot as a starter on the school soccer team, she has her world flipped upside down when she will have to wear a very cumbersome brace to help correct the curve in her spine. As a reader, one not only learns a lot about scoliosis, but also what it must be like to have to wear such a brace for 23 hours a day and how that interferes with normal life.
But underneath the surface, Braced is much more than a book about a girl's experience with scoliosis, and this is what makes it a novel well worth one's time to read. As Rachel has to deal with all that goes on with having to wear a brace--from physical discomfort, to clothes not fitting, to people being freaked out--she also learns how to deal with her emotions and to communicate her feelings to others. Along with the changes that come with getting a brace, each of the personal relationships that Rachel has shifts, and she has to learn to navigate this new terrain. Her mom, who also had scoliosis and is pregnant, is just trying to do what she thinks is best, but does not really understand what Rachel needs. Rachel's dad is hardly there because of a demanding job, but she finds that she needs his support now more than ever. Along with her two best friends and how they react to her having a brace and the new relationship with a boy, Rachel realizes along the way that no one can read her mind and she needs to learn to stop thinking just about herself. This growth that comes from some kind words, eye-opening experiences, and personal reflection is what makes this a novel worth reading and learning from.
Content Analysis:
Profanity/Language: 2 religious exclamations.
Violence/Gore: Character gets pushed by another person on purpose causing her to fall and not be able to get up.
Sex/Nudity: Character jokes about being a lesbian; boy and girl embrace and kiss; boy and girl hug.
Mature Subject Matter:
Bullying, death of a family member, brief mention of homosexuality, scoliosis.
Alcohol / Drug Use:
None
Reviewed By Sally