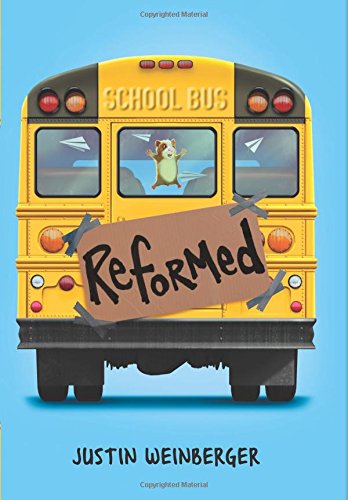 Publisher's Note:
Ian Hart has mastered the art of lying low. He might sometimes space out at the exact moment Mr. Dunford calls on him (it was field day!). And sure, he's a little clueless around the girls in his class. But Ian's nobody's fool. So how'd a kid like him get framed for pranking the new boy?

Too bad he won't have the chance to find out. Tonight, Ian and his friends Ash and Alva will be sleeping with one eye open . . . at bully reform school, where the hijinks are rougher, the mean girls are meaner, and even the teachers refuse to play by the rules.

It'll take all the schemes and wits Ian, Ash, and Alva can muster if they want to make it out of this nightmare and into middle school. But they're ready for action. Even if it means forging a secret alliance with a world-class hacker. Even if it means . . . wearing a tutu.

Watch your back. Hide your underwear. In a place like this, only the fearless survive.
This book was sent to Compass Book Ratings for review by Scholastic
Reformed
by Justin Weinberger
Overall Review:
When Ian finds himself shipped off to bully reform summer school, he starts to question whether or not he maybe should re-evaluate who he calls friends and maybe he should be listening to the voices in his head that are telling him to watch out. In Reformed by Justin Weinberger, the reader learns a valuable lesson from the experiences of Ian and his friend Ash. They have been flying under the radar in middle school because they were on the good side of the school bully, Devon. However, when Devon pushes things a little too far by almost causing someone to die from peanut allergies, the whole gang is blamed, really putting a damper on Ian's summer, when he realized it's his own fault for not standing up to Devon.
As Ian navigates a summer camp-like experience full of bullies, he comes to learn how he only has himself to blame for his predicament, and how that really needs to change. He also learns that not everyone is what they seem and ends up making friends with the most unlikely of people, proving once again that first impressions aren't always the best. Reformed is a great novel for teaching that there are consequences to every decision and sometimes even for the inability to make a decision.
Content Analysis:
Profanity/Language: 1 religious exclamation.
Violence/Gore: Bully shoves another person out of the way with his elbow; bully sneaks peanut butter into something a kid with peanut allergies is eating; bully threatens to punch someone; someone ties a character's shoelaces together causing him to trip; two characters threatened that something will happen to them in their sleep; two characters argue and one says to the other that they want them gone-- as in dead; bully causes someone to trip and fall; person pushes another in a threatening way; bully pushes character hard enough to knock the wind out of him; person says he's going to kill someone for exposing what the person has done.
Sex/Nudity: None
Mature Subject Matter:
Bullying.
Alcohol / Drug Use:
None
Reviewed By Sally