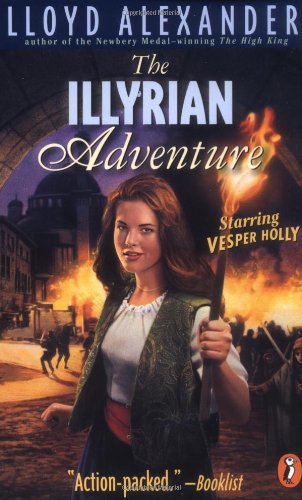 Publisher's Note:
It's 1872, and adventurous Vesper Holly and her guardian set out for the tiny country of Illyria, on a quest for its legendary treasure. But once Vesper and Brinnie arrive, they are plunged into a fierce struggle between rebel forces— and someone is out to kill the two of them! If anyone can triumph over those kind of odds, it's Vesper — one of Lloyd Alexander's most intrepid (and best-selling) heroines. "A story that moves at breakneck speed and is filled with delicious details Alexander is to be commended for his elegant writing, astute characterizations, and his presentation of an intelligent heroine." — Booklist, starred review "With its wonderfully exaggerated characters, tantalizing chapter endings, literate style, and witty repartee, the book must have been almost as much fun to write as it is to read." — The Horn Book
The Illyrian Adventure
by Lloyd Alexander
Overall Review:
The Illyrian Adventure is basically Indiana Jones for middle grade readers.
The story is told from the first-person viewpoint of Brinton Garrett, a pompous but well-meaning personage who is rather like Arthur Conan Doyle's John Watson--eager in nature, but not altogether bright. He is uncle to Miss Vesper Holly, the tale's 16-year-old heroine "with the digestive talents of a goat and the mind of a chess master."
Vesper is convinced that her late father was on the trail of a big archaeological discovery. Before his death, he was hunting down a legendary treasure and an army of magic warriors that fellow historians and archaeologists scoffed at as fairy tales. Determined to prove her father right, Vesper embarks on a journey to Illyria, with Uncle "Brinnie" in tow. Faced with political injustices, military harassment, and the tinder of a rising rebellion, it will take all Vesper's wit to discover if the treasure is real, or if it is nothing more than fantasy.
Lloyd Alexander writes in the vein of C.S. Lewis, sparing with details and leaving much to the reader's imagination in order to dive right into the action. His humor is similar to Patricia C. Wrede's Enchanted Forest Chronicles, riddled with pithy anecdotes and outlandish characters. I always enjoy picking up one of his books because they are easy to get into and never leave you disappointed.
First in a series of six novels all featuring the illustrious Vesper Holly, The Illyrian Adventure is a fast read, jam-packed with action, daring escapes, life-threatening revelations and a heroine to root for. If you're looking for a quick excursion that is over-the-top fun, this book is for you.
Content Analysis:
Profanity/Language: None
Violence/Gore: A character is reported deceased; characters are caught in a riot; a character is stabbed; characters occasionally discuss a country's civil unrest; a character thinks he is being attacked; characters run away from soldiers; characters are occasionally harassed by military personnel; a character goes missing; a festival turns into a brawl; characters are arrested; a character gets knocked out; characters discover dead bodies in a cavern; characters are threatened with death; characters are caught in a dynamite-induced cave-in; characters overthrow an assassination plot.
Sex/Nudity: A male character kisses a female character's fingers.
Mature Subject Matter:
Civil unrest, Social conflict, rebellion, betrayal, assassination plot.
Alcohol / Drug Use:
Characters go to a "public house"; characters pass around leather flasks at a festival.
Reviewed By Katrina