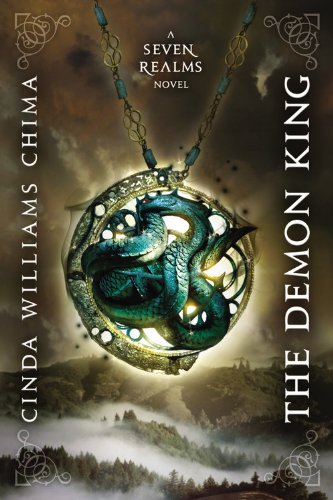 Publisher's Note:
One day Han Alister catches three young wizard setting fire to the sacred mountain of Hanalea. Han takes an amulet away from Micah Bayar, son of the High Wizard, to ensure the boy won't use it against him. The amulet once belonged to the Demon King, who nearly destroyed the world a millennium ago. With a magical piece so powerful at stake, Han knows that the Bayars will stop at nothing to get it back.

Meanwhile, Princess Raisa ana'Marianna has her own battle to fight. She's just returned to court after three years of riding and hunting with her father's family. Raia aspires to be like Hanalea, the legendary warrior queen who killed the Demon King and saved the world. But it seems that her mother has other plans for her-plans that include a suitor who goes against everything the Queendom stands for.

The Seven Realms will tremble when the lives of Han and Raisa collide in this stunning page-turner from best-selling author Cinda Williams Chima.
The Demon King (Seven Realms)
by Cinda Williams Chima
Overall Review:
For those craving a satisfying fantasy read, look no further than Cinda Williams Chima's The Demon King. A full cast of characters, a map (all truly great fantasy books have one), treason, intrigue, magic, wizards, and a simmering political situation make this a riveting read. There is a strong female character, Raisa, but there are several substantial male characters which makes this an appealing young adult guy read. By the end of the book, Han emerges as the one that will probably be the focal male character, but the author left herself a lot of options and this story is poised to go almost any direction--that is what makes it so intriguing. The author also doesn't take it too easy on her characters, which although heartbreaking, gives them some depth and substance.
This book is the first in a series and sets up the narrative with no clear indication of where things are going to go. An excellent young adult fantasy!
Ms. Chima also wrote The Warrior Heir, another great YA fantasy read.
Content Analysis:
Profanity/Language: 2 mild obscenities.
Violence/Gore: Report that a mother beat(s) son with switch; scene in which verbal threats exchanged, accompanied by weapons and magic; character is tackled; report of death of father; historical retelling of past events involving battles, torture, death, etc., general in nature; character jumped by others and beat severely with fists, kicking, hitting head on wall, knives, and threat to cut off hands; threatening actions; report of the brutal killing of 5 young people; soldiers beat a suspect, break arm, smash head into wall; report of 2 tortures/killings; physical struggle at knife point resulting in kidnapping/hostage; brief scene prisoners fight soldiers hitting with objects, kicking, etc.; evidence that prisoners (including children) have been physically hurt, some with severe injuries; threat of torture; threats; frightening scene and attempt to harm; reference to an execution; ceremony in which blood is taken from someone and mingled with the blood of someone else and then drunk, brief; report someone found dead; signs of blood evident from an attack; magic used to kill someone; death by fire, remains of individuals found later.
Sex/Nudity: Character said to have kissed someone in the past; insults/innuendo about someone's mother; characters (teenagers and young adults) kiss upon different occasions; character removes clothes to bathe (non-sexual); innuendo; character thinks about who she has kissed in the past; kiss on cheek; teenagers kiss passionately (1-2 sentences of general description) upon a few occasions; kiss on cheek; reference and use of a seduction charm; report that a woman learned she was pregenant but she had been unconscious when events happened, non-detailed.
Mature Subject Matter:
Death, death of a family member, murder, treason/corruption, arson, poverty, soldier brutality, child abuse (physical).
Alcohol / Drug Use:
Social drinking (including teenagers - seems social norm for author's fantasy world); character makes liquor; herbs used as medicine.
Reviewed By Cindy