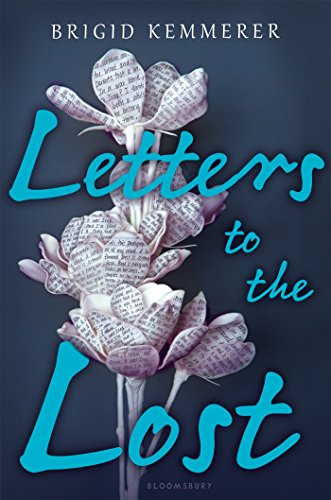 Publisher's Note:
Juliet Young always writes letters to her mother, a world-traveling photojournalist. Even after her mother's death, she leaves letters at her grave. It's the only way Juliet can cope.
Declan Murphy isn't the sort of guy you want to cross. In the midst of his court-ordered community service at the local cemetery, he's trying to escape the demons of his past.
When Declan reads a haunting letter left beside a grave, he can't resist writing back. Soon, he's opening up to a perfect stranger, and their connection is immediate. But neither Declan nor Juliet knows that they're not actually strangers. When life at school interferes with their secret life of letters, sparks will fly as Juliet and Declan discover truths that might tear them apart.
This book was sent to Compass Book Ratings for review by Bloomsbury Children's Books
Letters to the Lost
by Brigid Kemmerer
Overall Review:
Don't anticipate the typical fluff you get in a contemporary romance. Letters to the Lost by Brigid Kemmerer is a darker, more melancholy YA novel that examines the matter of grief and loss.
Alternating first person narrative captures two teens' perspectives as they deal with the feelings of brokeness that comes in the aftermath of the death of a loved one, and the alteration of life as they once knew it. Juliette is reeling from the recent loss of her mother, and Declan has still not moved on from the past mistakes that resulted in his sister's death.
Through a surprising occurrence, Juliette and Declan begin an anonymous correspondence with one another. This anonymity allows them to feel safe in sharing their most intimate thoughts. In time, these letters help them gain stability as they give each other encouragement and advice on handling their individual situations.
For a time, it is only the reader who is aware that these two not only know each other, but have a rather low opinion of one another, and travel in different social circles. How will they react when they finally realize who've they been communicating with?
The interchanging perspectives are not broken up by chapter or heading so each paragraph is a mystery of who is speaking. Luckily, there are only two choices, so it only takes a few sentences to determine if it is Juliette or Declan speaking.
If you're familiar with tumultuous romance novels, it will most likely only take you a few chapters to guess what the aspiring climactic conflict will consist of. Even if your speculation is realized, the anticipation at the outcome might just keep you reading on.
A reflective novel that makes you consider that your preconceived notions about another person are only surface deep. Perhaps your judgement is only based on a snapshot and not their entire life?
Looking for a gentler contemporary romance? Check out Jay Asher's, What Light.
Review of an Advance Uncorrected Proof
Content Analysis:
Profanity/Language: 13 religious exclamations; 36 mild obscenities; 2 derogatory names; 13 scatological words; 13 anatomical terms; joke about giving the finger.
Violence/Gore: Report of parents' violent death; teen recalls driving drunk and crashing into a building (mentioned more than once); thought or threat of violence (more than 15x); characters walk and crash into one another; report of suicide; report/memory of child abuse and injuries (mentioned of few times); implication that parent was responsible for child's death, resulting in imprisonment; mentions of pictures depicting war zones/death/injury/destruction; report of parent's death as a result of a hit and run (mentioned throughout novel); report of parent's violent drunk outburst; implication of violence; forceful shove (2x); report of attempted suicide; character punches an object in anger (2x); discussion of suicide; report of murder; few jokes of violence.
Sex/Nudity: Reference to female's chest (2x); a few mentions of dating; sexual reference; joke about kissing; mentions of female's menstrual cycle; mention of sperm; mention of homophobia; reference to homosexuality; male and female appreciate each other's appearance; report of kiss; reference/slang for male genitalia; memory of parent dating; adults kiss (2x); child finds pictures of naked parent cheating on their spouse; teens hold each other; revelation that parent was a serial cheater, characters hold hands; extended scene (about 1 page) teens hold each other close and kiss.
Mature Subject Matter:
Death of (a) loved one(s), teen and adult drunk driving, attempted suicide, juvenile delinquency/felony, manslaughter, child abuse, infidelity.
Alcohol / Drug Use:
Mentions of parent being a drunk, frequently drinking and driving; teen smokes; teen drinks and drives; joke about drugs/ few drug references; parent smokes; parent drinks; joke about teen spiking the punch bowl.
Reviewed By MaryLou