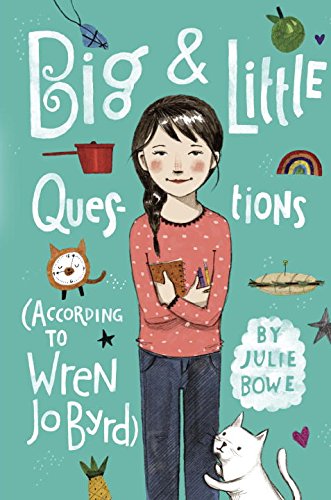 Publisher's Note:
From the author of the successful Friends for Keeps series comes Wren Jo Byrd, a nine-year-old introvert whose life has gone topsy-turvy ever since her dad moved out.

"By turns heartbreaking and heartwarming—exactly like real life. Julie Bowe takes on the tough questions about what it means to be honest, to be a good friend, and to be a family, and offers answers that, while not always easy, are always true."—Linda Urban, author of Weekends with Max and A Crooked Kind of Perfect

"Bowe so masterfully took me inside the head and heart of Wren Jo Byrd that I felt like a ten year old again—and loved every minute."—Barbara O'Connor, author of How to Steal a Dog


It's the start of a new school year and Wren Jo Byrd is worried that everyone will find out her parents separated over the summer. No one knows the truth, not even her best friend, Amber. When even her new teacher refers to her mom as Mrs. Byrd, Wren decides to keep their divorce a total secret. But something else changed over the summer: A new girl named Marianna moved to town and wants to be Amber's next bff. And because of her fib, Wren can't do anything about it. From take-out dinners with Mom to the tiny room she gets at Dad's new place, nothing is the same for Wren anymore. But while Marianna makes everything harder at first, Wren soon learns that Marianna once had to ask many of the same questions—the big ones, as well as the little ones—that Wren is asking now.

Set in Wisconsin, with wonderfully nuanced characters—from the bossy new girl, who acts big but has a secret of her own, to the sporty girl who acts little and shy but who becomes an unexpected friend—this is a book about much more than divorce.
This book was sent to Compass Book Ratings for review by Kathy Dawson Books
Big & Little Questions (According to Wren Jo Byrd)
by Julie Bowe
Overall Review:
For Wren life was perfect until her parents decided to get a divorce at the beginning of the summer and then quickly sending her to her grandparents in another city. Now, at the beginning of the school year, no one knows where she's been or that her life has been turned upside down. Can she just pretend it never happened? Or will pretending cost her her best friend as well?
Big & Little Questions (According to Wren Jo Byrd) by Julie Bowe is a heartfelt story of a girl caught up in circumstances she doesn't fully understand. Wren is a quiet and intelligent young lady who has the rare ability to see past the facades those close to her put up--even if she can't see what's on the other side. Her struggle to find her place in a life that has been changed forever will strike a chord with any reader who has experienced momentous change. Bowe approaches difficult topics with a sincerity and respect that elevates the story out of the realm of trivial pre-teen angst and helps the reader forge a bond with Wren as she finds her way.
Big & Little Questions (According to Wren Jo Byrd) is a lovely and touching tale that will engross readers of all ages.
Review of an Advance Reader's Copy
Content Analysis:
Profanity/Language: None
Violence/Gore: Boys pull girls hair a couple times; girl hit with ball; girl shoves other girl; girl hits other girl with ball; girl accidentally punches man's leg; reference to hitting a deer with a car.
Sex/Nudity: None
Mature Subject Matter:
Divorce.
Alcohol / Drug Use:
None
Reviewed By Amberle