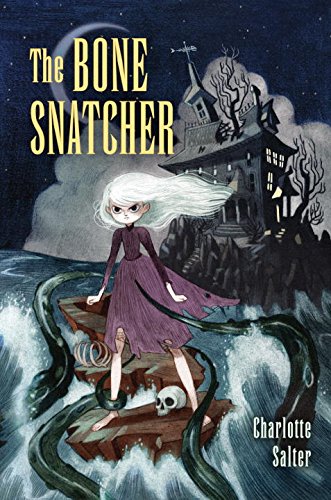 Publisher's Note:
Murder, madness, and sea monsters combine in this thrilling and atmospheric middle grade debut perfect for fans of Neil Gaiman, Lemony Snicket, and Tim Burton.

Sophie Seacove is a storyteller. She tells stories of what the world would be like if madness hadn't taken over. If her parents hadn't sold her off as a servant to pay for their passage out of London. If she wasn't now trapped in a decaying mansion filled with creepy people and surrounded by ravenous sea monsters.

The mansion has plenty of stories, too: About fantastical machines, and the tragic inventor who created them. About his highly suspicious death. And about the Monster Box, a mysterious object hidden in the house that just might hold the key to escaping this horrible place—and to reuniting Sophie with her family.

But not everyone wants Sophie to have the Monster Box, and as she gets closer to finding it, she finds herself unspooling years-old secrets—and dodging dangerous attacks. Sophie needs to use her brains, her brawn, and her unbreakable nature if she wants to make it off this wretched island…and live to tell this story.
This book was sent to Compass Book Ratings for review by Dial Books for Young Readers
The Bone Snatcher
by Charlotte Salter
Overall Review:
Sofie Seacove has always been drawn to the sea, even after the rest of the world is engulfed in Sea Fever, a fear of water so severe that a glass of tap water can cause mass panic. In order to buy a ticket to the New Continent and safety, her parents sell their strange daughter as a servant. Against her will, Sofie is sent off to the decrept house on an island surrounded by sea monsters. Can she find a way to escape? Or will the house reveal its secrets?
The Bone Snatcher by Charlotte Salter is a dark, thrilling tale along the same vein as Lemmony Snicket's A Series of Unfortunate events. However, it lacks the absurd tone of the latter, giving the impression that it takes itself too seriously. Salter's language and descriptions are beautiful and Sofie is a spunky and resourceful young lady but the characters are on the whole underdeveloped, making it hard to become invested in their plights. And despite the vivid and imaginative setting, the time period is so ambiguous that the reader may feel lost and struggle to find firm footing for the story.
The Bone Snatcher is a nice read but ultimately can't decide where it fits. In trying to walk the line between mystery, adventure and horror, it unfortunately falls short of them all.
Review of an Advance Reading Copy
Content Analysis:
Profanity/Language: 2 religious exclamations; 2 mild obscenities.
Violence/Gore: Character tied up; character hits head in car; girl asks man how he plans to kill her; girl knocks man over; many references to a disease that causes insanity; man holds girl at gun point; many references to and depictions of violence perpetrated by sea monster, both short and extended; a few instances of a girl nearly drowning; many references to the dead and dying; many references to and depictions of fighting sea monsters; plaster falls from ceiling; a few references to noises that cause minor physical pain; Several instances of boys roughly handling people; several references to a Hamlet's Ophelia; references to sticking a boy's head in the toilet; character thrown to the ground; many verbal and implied threats of violence; many scenes of boys causing general violence and mayhem; reference to a man who killed himself; boy shoots a dish; girl stomps on boy's foot; several stories told by the main character that include references to violence and death; animal tries to bite girl; character nearly hit by falling rock; character falls in pit; character worries about falling; extended scene of girl being chased and tormented by boys; character references a mushroom trying to eat him; character cautions girl to not injure herself; girl stabs boy; machine tries to kill character; character's pants catch fire; girl tries to punch boy; a few refences to people disappearing; character fakes being eaten by sea monsters; boys admit to killing people; woman tries to kill girl; a letter confesses to creating a hoax that cost thousands of lives; girl cuts off boy's ear; girl cuts finger; woman bites horse.
Sex/Nudity: Boy and girl kiss.
Mature Subject Matter:
Mental illness, supernatural, violence.
Alcohol / Drug Use:
None
Reviewed By Amberle