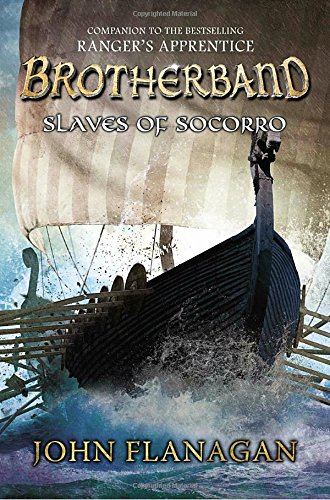 Publisher's Note:
From the author of the mega-selling Ranger's Apprentice!

Hal and his fellow Herons have returned home to Skandia after defeating the pirate captain Zavac and reclaiming Skandia's most prized artifact, the Andomal. With their honor restored, the Herons turn to a new mission: tracking down an old rival turned bitter enemy. Tursgud—leader of the Shark Brotherband and Hal's constant opponent—has turned from a bullying youth into a pirate and slave trader. After Tursgud captures twelve Araluen villagers to sell as slaves, the Heron crew sails into action . . . with the help of one of Araluen's finest Rangers!

In this fourth book in the Brotherband Chronicles, a new battle unfolds as old rivalries are renewed, peace treaties are put to the test, and the action builds to a pulse-pounding finale. Perfect for fans of J.R.R. Tolkien's Lord of the Rings, T.H. White's The Sword in the Stone, Christopher Paolini's Eragon series, and George R. R. Martin's Game of Thrones / A Song of Ice and Fire series.
The Brotherband Chronicles, Book 4: Slaves of Socorro
by John Flanagan
Overall Review:
The author of this book is a master of suspense. The quality of writing lives up to John Flanagan's usual level of intrigue, captivating realms, and swashbuckling characters. Written by the same author as the Ranger's Apprentice series, the Brotherband series has an interesting depth of detail, yet is written in a way that grabs the reader's attention right from the beginning. Starting with a map and a brief explanation of sailing terms, this story is immediately captivating--just like the first three books in the series. The characters are well-developed and for those who have read any other part of the series before, the heroes we have come to know and love continue to grow in depth and suspense.
The pacing moves along quickly, filling in past details so that this book could stand alone if so chosen by the reader. Dealing with the difficult subject of slavery, the book takes many exciting turns and keeps the reader on the edge of their seat, yet the author has done a fantastic job of keeping it family friendly. Our world still deals with slavery and it is good to see the subject dealt with in a way that gives the reader a brief look into how the consequences of slavery are far reaching. The main characters are young people who have proven they are up to the task of taking evil head-on and fighting back. Resourceful and talented, they can teach us lessons on being honorable, having integrity, and still listening to our elders no matter how grown-up with think we are. It's also fantastic to see a cross-over character from the Ranger's Apprentice series.
Content Analysis:
Language: 1 mild obscenity.
Violence/Gore: Animals caught, skinned & eaten, one cooked over fire & spit, no gory details; man smashes large container on a young man's head, knocked unconscious; 2 men killed by pirates, no details; people previously abducted and sold as slaves; slave traders attack a village, some dead, several captured; thugs attack with intent to capture or kill, some of the thugs killed, dog attacked man, tore up arm, broken and some blood but not gory; young man held captive to be sold, deals with bully, fights back, some blood; man purposefully starts fire and destroys property; young woman uses a weapon and harms a few others; young men get in fight with soldiers, some knocked out; soldiers killed in fight, blood mentioned, not gory; man has injury, blood mentioned but not excessive or gory; harsh battle between soldiers and young men, several dead, dog tears up an arm, blood & death mentioned but not gory; ship destroyed, no mention of survivors; man uses his sword to slap other men, sometimes drawing blood; man threatens harm to escapees; man's face cut, mention of wound and blood, minor gore but very brief; man violently killed by inanimate object, blood & death but not gory.
Sex/Nudity: Adult woman briefly kisses adult man, no gushy details.
Mature Subject Matter:
Weapons: axes, swords, knives, bow & arrows, cross bow, & fragmenting projectiles, piracy, slaves, slave & trade smugglers, death.
Alcohol / Drug Use:
Young men, under drinking age, get drunk on ale; adults drink alcohol at festival; men get drunk at party.
Reviewed By Beth