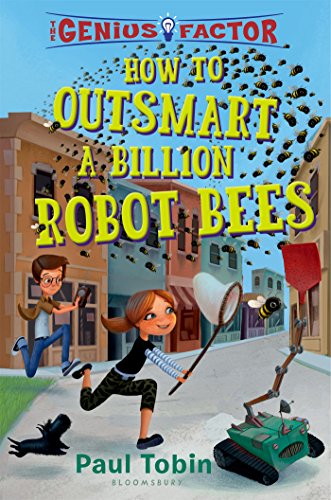 Publisher's Note:
It's Friday the 13th again, and for sixth grade genius Nate Bannister, that means doing three more not-so-smart things to keep life interesting. But he has bigger problems than his own experiments. His nemesis, the Red Death Tea Society, is threatening to unleash a swarm of angry bees on the city of Polt if Nate doesn't join their ranks. But then a new group of people with murky intentions shows up -- the League of Ostracized Fellows -- and they want Nate as their own, too. To top it off, he's convinced there's a spy in his very own school.
Nate must once again team up with his new, resourceful, friend Delphine to save the day. They'll need the help of Nate's crazy gadgets, such as his talking car Betsy and super-powered pets Bosper the Scottish terrier and Sir William the gull, if they hope to see another Friday the 13th. Because they might be battling more than just sting-happy bees and villains with a penchant for tea this time around.
Awards for Bandette
Winner, Eisner Award for Best Digital Comic
Winter, IndieFab Award - Bronze, Graphic Novels & Comics
This book was sent to Compass Book Ratings for review by Bloomsbury Children's Books
How to Outsmart a Billion Robot Bees
by Paul Tobin
Overall Review:
How To Outsmart a Billion Robot Bees is a hilarious, action-packed adventure that is a second novel in the Genius Factor series created by author Paul Tobin. Even though it is the second in the series, it stands alone and does not leave the reader confused if they haven't read the first novel. This cleverly written, fast-paced, witty novel is sure to appeal to young precocious readers who dream of using their smarts to save the world, as well as to those who just enjoy an adventure that is anything but normal. If you are friends with Nate Bannister, which Delphine is, there is no such thing as normal, or dull, or ordinary.
Nate is a certified off the charts child genius, who not only invents crazy things, but who is also being sought after by the evil Red Death Tea Society, which is set on ruling the world. This time Nate created a way to control bees, which the evil Society has twisted so that they now have control of millions of bees. Their evil plot certainly keeps Nate, Delphine, and Nate's many robots on their toes as they try to outsmart the Society and gain back control of the bees. This leads to many creative and sometimes outrageous ideas and solutions as they work on getting the upper hand and keeping the Society from setting their nefarious plan into action.
How To Outsmart a Billion Robot Bees is the perfect novel for any reader who loves action, adventure, and the slightly absurd. It also would be a great read for those younger advanced readers who need a challenge but without the more mature content.
Content Analysis:
Profanity/Language: None
Violence/Gore: (Note: All violence almost borders on the cartoonish type, for example the guns mentioned are disintegration guns.) Character punches another person on the arm 3 separate times; evil society threatens to eradicate someone's existence; boy caught bullying a little girl and dunking her repeatedly in the pool; 2 characters get repeatedly dunked by the town bully; evil society threatens to dissect someone's brain; character says he is getting shot at during a phone conversation; character is grabbed by the hair and shoved against the wall; character shot at by a man with a disintegration gun (2 separate times); person attempts to inject character with a poisonous tea; character kicks evil person; character pushed forcibly against the wall.
Sex/Nudity: Boy puts arm around girl; boy and girl hold hands (3 times); boy and girl hug.
Mature Subject Matter:
None
Alcohol / Drug Use:
None
Reviewed By Sally