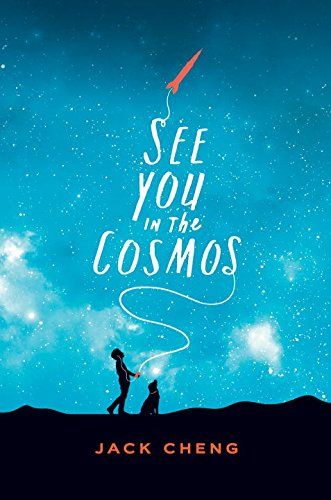 Publisher's Note:
A space-obsessed boy and his dog, Carl Sagan, take a journey toward family, love, hope, and awe in this funny and moving novel for fans of Counting by 7s and Walk Two Moons.

11-year-old Alex Petroski loves space and rockets, his mom, his brother, and his dog Carl Sagan—named for his hero, the real-life astronomer. All he wants is to launch his golden iPod into space the way Carl Sagan (the man, not the dog) launched his Golden Record on the Voyager spacecraft in 1977. From Colorado to New Mexico, Las Vegas to L.A., Alex records a journey on his iPod to show other lifeforms what life on earth, his earth, is like. But his destination keeps changing. And the funny, lost, remarkable people he meets along the way can only partially prepare him for the secrets he'll uncover—from the truth about his long-dead dad to the fact that, for a kid with a troubled mom and a mostly not-around brother, he has way more family than he ever knew.

For fans of Wonder and The Curious Incident of the Dog in the Night-Time, Jack Cheng's debut is full of joy, optimism, determination, and unbelievable heart. To read the first page is to fall in love with Alex and his view of our big, beautiful, complicated world. To read the last is to know he and his story will stay with you a long, long time.
This book was sent to Compass Book Ratings for review by Dial Books for Young Readers
See You In the Cosmos, Carl Sagan
by Jack Cheng
Overall Review:
See You In the Cosmos, Carl Sagan by Jack Cheng is a novel that takes a stark, and somewhat bleak, look at the effect an adult's mental illness can have on a child. Alex is an 11-year-old who lives alone with his schizophrenic mother, basically taking care of both of them. His father is out of the picture and his older brother sends them money, but it's essentially Alex that is taking care of their day-to-day needs. His escape is his fascination with space and rockets and chatting on forums that discuss those things. In fact, the novel starts with him going alone to a rocket launch convention in another state by himself. This then leads to further 'adventure'. Before he leaves however, he prepares enough food for his mom.
It's this fact, that Alex takes the trip alone, yet is only 11, that sets this middle grade novel up for turning a little more mature. Alex accepts rides from strangers, convinces them to drive him to Las Vegas, deals with their more mature drama, and then gets them to take him to LA to find his brother. Along with the underlying theme of his mother's mental illness, this novel is more of a serious read that neither enlightens the reader to a better understanding of mental illness nor leaves the reader feeling uplifted from reading this novel.
See You In the Cosmos, Carl Sagan is a novel written in the first person point of view and really is a 'transcript' of Alex's recordings on an Ipod. He's making these recordings to send into space (reminiscent of his hero, Carl Sagan, who sent a recording into space). This style leads to a more rambling, stream-of-consciousness-type storytelling, which at times is hard to follow along (especially when it's the 'transcript' of conversations Alex overhears). All in all, this novel was a hard one to get through for me. It would probably appeal to those wanting a different perspective into what it's like for those around people with mental illnesses.
Review of an Advance Reading Copy
Content Analysis:
Profanity/Language: 7 religious exclamations.
Violence/Gore: Character overhears someone supposedly punching another person, causing their nose to bleed; secondhand account retold of character falling from a ladder on to a fence and receiving a serious injury; secondhand mention of a person having hit his wife with a hockey stick.
Sex/Nudity: Brief discussion of finding someone to interview that is in a homosexual relationship; mention of a married man getting a woman that is not his wife pregnant.
Mature Subject Matter:
Mental illness, physical abuse, neglect, divorce, death, infidelity, homosexuality.
Alcohol / Drug Use:
Mention of someone drinking and partying away four years of college; 2 characters drink beers together.
Reviewed By Sally