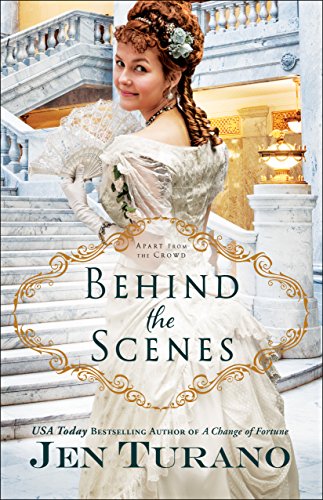 Publisher's Note:
Start of a Delightful New Series from Historical Romance Author Jen Turano

Miss Permilia Griswold may have been given the opportunity of a debut into New York high society, but no one warned her she wasn't guaranteed to "take." After spending the last six years banished to the wallflower section of the ballroom, she's finally putting her status on the fringes of society to good use by penning anonymous society gossip columns under the pseudonym "Miss Quill."

Mr. Asher Rutherford has managed to maintain his status as a reputable gentleman of society despite opening his own department store. While pretending it's simply a lark to fill his time, he has quite legitimate reasons for needing to make his store the most successful in the country.
When Permilia overhears a threat against the estimable Mr. Rutherford, she's determined to find and warn the man. Disgruntled at a first meeting that goes quite poorly and results in Asher not believing her, she decides to take matters into her own hands, never realizing she'll end up at risk as well.

As Asher and Permilia are forced to work together and spend time away from the spotlight of society, perhaps there's more going on behind the scenes than they ever could have anticipated. . . .
This book was sent to Compass Book Ratings for review by Bethany House Publishers
Behind the Scenes
by Jen Turano
Overall Review:
Behind the Scenes is the first book in Jen Turano's Apart From the Crowd series. This historical piece taking place in New York is particularly amusing for those of us who find social class stigmas to be ridiculous and limiting. Enter Permilia Griswold who dares to defy all of these social norms and create a meaningful purpose for her life.
The antics of Permilia are often humorous as one considers the stuffiness of the social elite. Asher Rutherford is unsure whether to be attracted to or merely confused by Permilia's behaviors. It is fun to tag along as these characters evaluate their principles and desires.
The book contains many interesting and quirky characters. Hopefully many of these are included in subsequent books. Readers will want to strangle some, hug others and just laugh along with yet a few more.
Enjoy this journey into historical New York and let yourself be caught up in the challenges and triumphs of the characters. Romance, humor and some surprises await readers.
Review of a Digital Advance Reader Copy
Content Analysis:
Profanity: None
Violence/Gore: Characters stomp on toes and kick a person in the shin; a person overhears men plotting to kill someone; arrows and bullets are fired at characters, but miss; a character speculates that another character would shoot someone; a person throws objects at people in a fit of rage; characters are threatened with knives and guns, blood is drawn and there is a fatality; characters admit to murdering people.
Sex/Nudity: Non-married characters kiss and embrace; it is mentioned that a man was unfaithful and had polygamous relationships.
Mature Subject Matter:
Illegitimate children, death of a parent, murder.
Alcohol / Drug Use:
Adults consume wine and champagne at social functions; adult characters sip brandy.
Reviewed By Susan