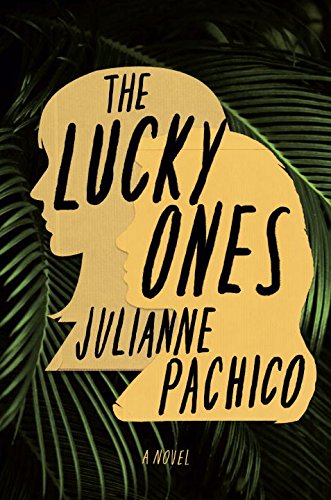 Publisher's Note:
Set during the peak of Colombia's drug-fueled conflict, and in New York City, this captivating, kaleidoscopic debut novel centers on a group of high school girls and the people whose lives touch theirs—including their parents, teachers, housekeepers, and the warlords and guerrilla fighters who surround them.

While her parents are away for a holiday weekend in the mountains around Cali, a teenager finds herself home alone for the first time, with the household help mysteriously gone, no phone connection, and news of an insurgency on the radio—and then she hears a knock at the door. The girl's teacher recites Shakespeare in the jungle to a class of sticks, leaves, and stones, while his captors watch his every move. Another classmate, having escaped Columbia for the clubs of New York, is unable to forget the life she left behind without the help of the little bags of powder she carries with her. Taking place over two decades, The Lucky Ones presents us with a world in which perpetrators are indistinguishable from saviors, the truth is elusive, and people you love can disappear without a trace.

A prismatic tale of a group of characters who emerge and recede throughout the novel and touch one another's lives in ways even they cannot comprehend, The Lucky Ones captures the intensity of life in Colombia as paramilitaries, guerillas, and drug traffickers tear the country apart. Combining vivid details of life under siege with a hallucinatory feel that befits its violent world, The Lucky Onesintroduces a truly original and exciting new voice in fiction.
This book was sent to Compass Book Ratings for review by Spiegel & Grau
The Lucky Ones
by Julianne Pachico
Overall Review:
The Lucky Ones is a gritty and intense novel about the Colombian conflict. The story takes place over two decades, 1993 to 2013, and is set in Colombia and New York City. The book features a myriad of characters from all walks of life. What makes The Lucky Ones unique is that each chapter is told from an unknown character's point of view. Readers must figure out who is narrating and how he or she is connected to the others. While this is an admittedly clever way to present a story, it is also very puzzling! The chapters are also non-chronological, which adds to the confusion. This is a debut novel for Colombian-born author Julianne Pachico. Pachico's writing is strong and dynamic, with vivid and memorable descriptions. The Lucky Ones is a raw and realistic historical fiction that will stick with readers for a long time.
Review of an Advance Reader Copy
Content Analysis:
Profanity/Language: 10 religious exclamations; 9 mild obscenities; 2 religious profanities; 2 derogatory names; 13 scatological words; 4 anatomical terms; 18 f-word derivatives.
Violence/Gore: Multiple implied occurrences of violence involving a massacre at a party, a narrator mentioning a swimming pool turned red by men with "long sticks", and characters hearing the sound of gunfire; frequent secondhand reports of violence include shooting deaths, bomb on an airplane, torture by the paramilitary, a character reports different ways to mutilate bodies; mention of murders by chain saws and bombings. Several pages talk about bodies found in a river; in a brief scene of violence, a character's hand is chopped off; a character is slapped by her mother; a child plays with a lighter and burns her tongue; a character demands deserters be executed; a man is found dead.
Sex/Nudity: A few incidents of kissing; frequent sexual references including mention of "hooking-up"; bloodstains from periods and discharge from yeast infections; girls showing their bra straps and loosening their jeans; alluding to rape, including a character imagining the horror of it; reports of rabbits mating; a character worries about being called a lesbian; a few mentions of pornography and masturbation; mention of a child twisting his teacher's nipples and asking about genitals; a mention of anal sex; brief scenes of sexual activity without explicit details between adults.
Mature Subject Matter:
War, drug gangs, murder, drug use, drug dealers, cancer, imprisonment, kidnap for ransom, bombs, torture, mention of rape, weight issues, jungle parasites and tapeworm, mention of homosexuality, pornography and masturbation.
Alcohol / Drug Use:
Frequent drinking and smoking at social gatherings; characters are described as "hungover" and "half-drunk"; an entire chapter details a young woman buying and using drugs; underage smoking; a young girl remembers tasting her mother's champagne; use and abuse of prescription medications.
Reviewed By Rachel