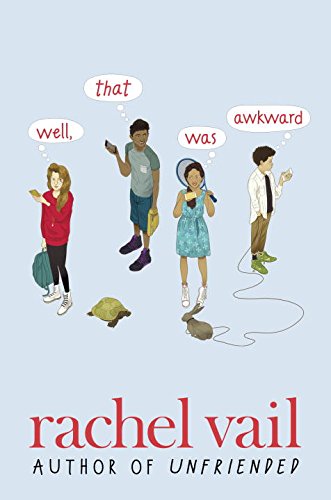 Publisher's Note:
Gracie has never felt like this before. One day, she suddenly can't breathe, can't walk, can't anything—and the reason is standing right there in front of her, all tall and weirdly good-looking: A.J.

But it turns out A.J. likes not Gracie but Gracie's beautiful best friend, Sienna. Obviously Gracie is happy for Sienna. Super happy! She helps Sienna compose the best texts, responding to A.J.'s surprisingly funny and appealing texts, just as if she were Sienna. Because Gracie is fine. Always! She's had lots of practice being the sidekick, second-best.

It's all good. Well, almost all. She's trying.

Funny and tender, Well, That Was Awkward goes deep into the heart of middle school, and finds that even with all the heartbreak, there can be explosions of hope and moments of perfect happiness.
This book was sent to Compass Book Ratings for review by Viking
Well, That Was Awkward
by Rachel Vail
Overall Review:
As mentioned in the front of the book under the list of characters, Gracie is the kind of friend everyone would want. And she is. Witty, very funny and confident but not annoyingly so. Of course, with a coming-of-age story, there must always be the mean girl and Riley fills that position quite well. Then we have the perfect sidekick, Sienna, who is ever loyal and supportive except...when she can't be. All around, they are excellent characters who are relatable and interesting. You'll find these characters in so many situations that you probably experienced at the ages of 13 and 14, are currently in, or will be soon; some good, others not that great. I love the realness of the story and that it wasn't forced; it just all seems to unfold naturally. Amazing friendships, characters dealing with the aftermath of tragedy and budding relationships all find their way into this beautiful story.
One wouldn't anticipate that a book about 13 and 14-year-olds drama-filled life would be interesting to a 30-something stay-at-home mom but Rachel Vail is a phenomenal writer. I want to read everything Rachel Vail has and ever will write if it's this funny! With all the laughing I was doing I was a bit surprised to find myself in tears (of sadness) at a few points. I can't wait to share this book with my 14-year-old niece and really anyone. Honestly, the only person/people I can think of who wouldn't enjoy this book are those who just don't like to laugh. Even those people really need to read it because they would forget that they don't like to laugh because it's impossible to hold it back while reading this book.
Review of an Advance Reader's Copy
Content Analysis:
Profanity/Language: 1 religious exclamation. Note: a few incidents of OMG; character says, "hella".
Violence/Gore: Several (12) brief incidents including character jokes about others acting like she killed someone; character jokes about being able to slay dragons; joking about cutting off thumbs; characters thought to be suicidal; expression said that means dying wolf; character imagining getting attacked; character worried a bird will eat tortoise; character jokes about preferring to stick fork in eye over something else; reference to character dying; reference to people in comas; reference to seizures, mental breakdowns and zombie apocalypses; reference to character who is on suicide watch.
Sex/Nudity: A few (9) brief incidents including holding hands; flirting via texts; secondhand report of kiss; hugging; boy asks girl if she wants to be his girlfriend; reference to animals mating; reference to character needing a sports bra and girl getting "felt up" while getting a new bra; reference that someone could be a lesbian.
Mature Subject Matter:
Bullying, suicide (contemplation of), death (report of), flirting and teenage romantic relationships.
Alcohol / Drug Use:
None
Reviewed By Jenny