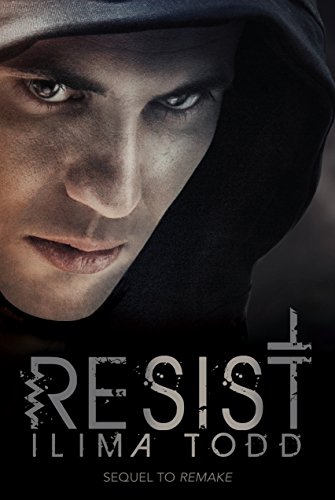 Publisher's Note:
Having been rescued, Remade, and returned to Freedom, Theron must now face a life without Nine. Though he's chosen to be a healer, he uses all the vices Freedom affords to try and dull the pain of losing Nine. But he can't find the peace he so desperately needs. Until he meets Catcher, a man who shows him the dark truths behind Freedom's Batcher program. From him, Theron learns what it means to be a leader and a father. When he falls in love with a captured rebel named Pua, Theron must choose: Freedom and its easy pleasures, or a life that is truly free but full of hardships and decisions.
This book was sent to Compass Book Ratings for review by Shadow Mountain
Resist
by Ilima Todd
Overall Review:
After really enjoying Resist's prequel, Remake, I was anxious to continue this series by Ilima Todd. Resist jumps in right where Remake left off and it was every bit as engaging. We follow some of the same great characters but the plot thickens as we're introduced to some even more complex characters and situations. Set in a futuristic, dystopian world that is located in what used to be Australia, the residents of this city are supposedly "free to choose" most things in their life. What they don't realize is that they are in fact prisoners and are being kept from one of the most important things everyone should have: a family. Remake begins with characters who are mostly emotionless and superficial but as the characters' eyes are opened in Resist, it becomes very emotional when they see how life should be and they begin to realize what they stand to lose. As with the first book, this story delves into some serious subjects such as gender roles, meaningful relationships, and true freedom of choice. There are several characters who are untrustworthy and you'll be kept in suspense all the way until the end to see whose side they will choose. Along with dodgy characters who keep you guessing, Todd throws in some shockers by said characters that you won't foresee. Anyone who enjoys dystopian novels or thought-provoking fiction will love this series.
Content Analysis:
Profanity/Language: None
Violence/Gore: Many (30) brief incidents including character joking that another thinks of ways to kill him; verbal threat as a joke; character could die; character feels like getting stabbed in the chest; character will die if situation occurs; secondhand report of character getting beat up; reference to people getting killed after breaking law; secondhand report of character getting hand cut on tool; secondhand report of character getting beat up and life threatened; references to death and murder; secondhand report of character getting leg bit off by shark; reference to suicide; reference to fights and an injured person; characters are told to kill others; secondhand report that prisoners have been beaten; character tortured by having head dunked under water; character playfully punches another; cage fights; character drills another's knee for an unusual medical procedure; character's nose gets broken; characters get in fight; characters knocked unconscious; character's apartment torn apart; character breaks another's door down; character killed.
Sex/Nudity: Many (26) brief incidents including flirting; touching face, neck, chest (male); arm around; holding hands; kissing; hugging; head on shoulder.
Mature Subject Matter:
Women forced to be surrogates, slavery, murder, torture, death.
Alcohol / Drug Use:
Characters get drunk; references to drinking; character suffering from drug withdrawal; drunks in street.
Reviewed By Jenny