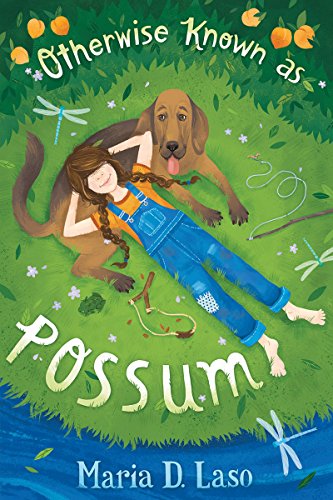 Publisher's Note:
Possum Porter has had it with change. First she lost Mama, leaving a hole nothing can fill. And now, instead of trying to return to some kind of normal, Daddy's sending Possum to school. A real school, where you have to wear SHOES. Where some Yankee teacher will try to erase all the useful things Mama taught Possum during their lessons at home.

So Possum comes up with a plan. If she can prove that she already knows everything worth knowing, Daddy will let her quit school and stay where she belongs. She won't have to deal with snooty classmates, or worry about tarnishing Mama's memory.

But unfortunately, Possum doesn't shoot to the top of the class like she expected. Even worse, the unmarried Yankee teacher seems to have her eyes on someone . . . Possum's Daddy. With time running out, Possum decides to do something drastic to get away from school-and get Daddy out of Ms. Arthington's clutches-or risk losing everything that's keeping her broken heart glued together.
This book was sent to Compass Book Ratings for review by Scholastic Press (A Scholastic Imprint)
Otherwise Known as Possum
by Maria D. Laso
Overall Review:
Set in the South during the Great Depression, Otherwise Known as Possum by Maria D. Laso is middle grade historical fiction with a charming protagonist, LizBetty aka Possum. Possum is a piece of work, to say the least. Although she undergoes some changes in the book, she actually stays fairly true to her origins; she is a tomboy in the beginning and in the end, she is still a tomboy, but maybe a slightly enlightened one. The outstanding feature of this book is the style and voicing of the characters. The author slips the reader right into the South with the dialect, slang, and colloquialisms of the era and location. Possum will leave the reader smiling.
Sadly, the author Maria D. Laso passed away before this book was published, but luckily, she left this little gift for the world.
Review of an Advance Reader's Copy
Content Analysis:
Profanity/Language: None
Violence/Gore: Report of death of parent and child in childbirth; school yard fight between two girls involving tackling and punching; characters collide/bump by accident resulting in minor injury; girls wrestle/fight; general talk about hunting, fishing, gutting fish for food, etc.
Sex/Nudity: Boy likes/has crush on girl; boy kisses girl on check; boy and girl hold hands.
Mature Subject Matter:
Death of a parent, death of a family member, poverty, depression, mental illness, grief, the Great Depression.
Alcohol / Drug Use:
None
Reviewed By Cindy