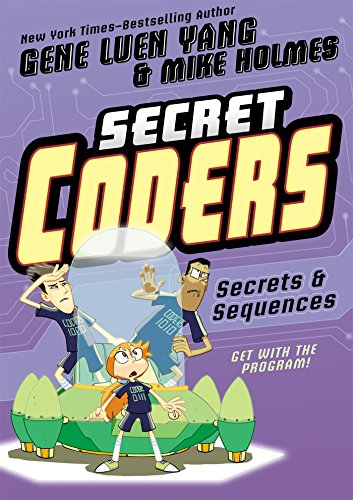 Publisher's Note:
Stately Academy is no ordinary school: it was once home to an elite institute where teachers, students, and robots worked together to unravel the mysteries of coding. Hopper, Eni, and Josh won't rest until they've learned the whole story, but they aren't the only ones interested in the school's past. Principal Dean is hot on their trail, demanding that the coders turn over their most powerful robot. Dean may be a creep, but he's nothing compared to the guy who's really in charge: a green-skinned coding genius named Professor One-Zero.
This book was sent to Compass Book Ratings for review by First Second Books
Secrets & Sequences (Secret Coders #3)
by Gene Luen Yang
Overall Review:
Gene Luen Yang continues to try and make computer science fun in his latest addition to the Secret Coders series, Secrets & Sequences (Secret Coders #3).
With upwards of seven black, white, and green animated panels to fill the page, the story resumes with Hopper and her friends' ongoing investigation of their strange school and creepy principal.
Hopper, Eni, and Josh advance their computer programming skills as they haphazardly encounter dangerous adventures and their most sinister character to date.
Questions and answers begin to be more personal for Hopper as she becomes closer to solving the perplexing disappearance and whereabouts of her father, while gaining a closer relationship with her mother and friends.
The author tries to engage readers on the coders' inquiry with the interactive narrative that appeared in its predecessor, Paths & Portals (Secret Coders #2).
Great for readers who enjoy a fun mystery with their computer science. Be sure to check out the two previous novels in the series, Secret Coders (Secret Coders #1) and Paths & Portals (Secret Coders #2) for a better understanding of the graphic novels' storyline and the basic formula for cyphering- as the first novel introduces binary coding, the second basic computer programming, and the third offers a bit more advancement with the programming.
Can you keep up with the coders quest to solve the query?
Content Analysis:
Profanity/Language: None
Violence/Gore: A few threats of harm/danger; machine becomes erratic destroying property; character punches another character; machine crashes into characters causing injury; report that character is evil; report that character was planning on taking over the world; report of abduction; character slaps another character (humorous); child finds parent tied up and being threatened by another adult with a weapon; machine attacks vehicle causing it to crash.
Sex/Nudity: None
Mature Subject Matter:
Threatening adults, abduction.
Alcohol / Drug Use:
Character is drugged.
Reviewed By MaryLou