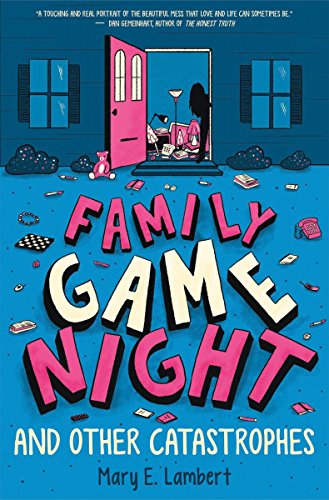 Publisher's Note:
Annabelle has a five mile rule: She must keep her friends from coming within five miles of her home. That's because Annabelle's mom is a hoarder. Their house is full of stuff: canned goods, broken toys, old newspapers... It's everywhere except for Annabelle's spotless room.

Annabelle can't let anyone find out what her house is like. They'll realize that her mom is crazy. They'll make fun of her. Or feel sorry for her. Or try to help.

But when the newspaper piles come crashing down on her sister's head one morning, it kicks off an epic fight between her parents that ends up with her dad taking off -- and her fix-it-all grandmother stepping in.

As Annabelle realizes how bad things have gotten for her little sister, while trying to navigate her first crush, not to mention stay sane herself, she's forced to come to terms with the fact that maybe she can't keep all her secrets to herself. Maybe she can't just throw her mom's things out... maybe she has to let some people in.
This book was sent to Compass Book Ratings for review by Scholastic
Family Game Night and Other Catastrophes
by Mary E Lambert
Overall Review:
Mental illness comes in all sorts of shapes and sizes and in Family Game Night and Other Catastrophes, readers get to see the effect of how hoarding and the cause behind it can really hurt not only the person with the mental illness, but those that live with them. Annabelle appears to have a normal happy life on the outside, but behind the closed door of her very cluttered home, it's anything but normal. Annabelle has a mother who is a chronic hoarder and their house is full of her mother's "collections". Because she's embarrassed by her house, Annabelle has a strict 5 mile zone that she doesn't bring friends into. Suddenly, her stable, but cluttered life, is turned upside down and Annabelle's normal is now no longer possible. With her dad storming out, her mom more frenzied than ever and her grandmother comes to visit and straighten everything out.
Annabelle, is a very likable, put-together 8th grader, but underneath it all she is hiding something. Coming to grips with her mother's mental illness is something that will help Annabelle get a handle on her life, which she feels is getting out of control. Family Game Night and Other Catastrophes by Mary Lambert is the perfect look into how a mental illness can affect the whole family. And just as it affects the whole family, it takes the whole family to help the person with the illness.
Content Analysis:
Profanity/Language: 1 religious exclamation.
Violence/Gore: News headline given of woman found dead under piles of junk; another headline given of someone being found crushed to death by junk; another newspaper article stating that someone who was a chronic horder as well as owning dozens of dogs is hurt by the junk falling on him and then eaten by the dogs; 2 women fight over a newspaper and one lets go causing the other to fall over.
Sex/Nudity: Boy and girl hold hands; Boy puts arm around a girl.
Mature Subject Matter:
Mental illness, death, divorce.
Alcohol / Drug Use:
Account of man smoking a pipe.
Reviewed By Sally