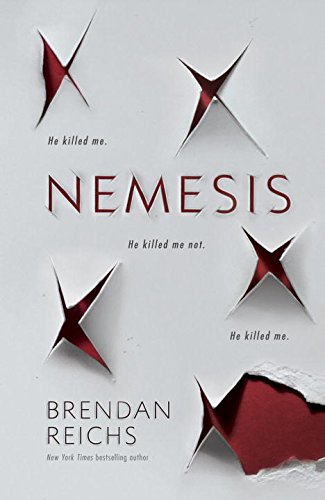 Publisher's Note:
Orphan Black meets Lord of the Flies in this riveting new thriller from the co-author of the Virals series.

It's been happening since Min was eight. Every two years, on her birthday, a strange man finds her and murders her in cold blood. But hours later, she wakes up in a clearing just outside her tiny Idaho hometown—alone, unhurt, and with all evidence of the horrifying crime erased.

Across the valley, Noah just wants to be like everyone else. But he's not. Nightmares of murder and death plague him, though he does his best to hide the signs. But when the world around him begins to spiral toward panic and destruction, Noah discovers that people have been lying to him his whole life. Everything changes in an eye blink.

For the planet has a bigger problem. The Anvil, an enormous asteroid threatening all life on Earth, leaves little room for two troubled teens. Yet on her sixteenth birthday, as she cowers in her bedroom, hoping not to die for the fifth time, Min has had enough. She vows to discover what is happening in Fire Lake and uncovers a lifetime of lies: a vast conspiracy involving the sixty-four students of her sophomore class, one that may be even more sinister than the murders.
This book was sent to Compass Book Ratings for review by Penguin
Nemesis
by Brendan Reichs
Overall Review:
Min receives strange birthday gifts. Since the age of six on every even birthday, the dark suit man comes and kills her. Then she wakes up as if her death has not occurred. Every…single…time. People think she's crazy. Some days she thinks she's crazy. But on her sixteenth birthday she finds a shred of evidence that proves she might be the only one who knows the truth.
Nemesis is part mystery, part thriller. As Min and her best friend Tack work their way through finding who is behind the murders, this book becomes a "who-done-it" and "who-knew" piece of fiction. There are lots of twists and turns in the plot line where good guys become bad guys, new players are added to the cast of affected, and natural disasters are woven into the mix.
As I was reading, I felt like the plot line was an amalgamation of a bunch of previous movie plot lines. Take a bit of Armageddon, add some Groundhog Day, sprinkle in a bit of Butterfly Effect and every governmental conspiracy theory movie ever made and then top it off with a bit of Ex Machina. It just really didn't grab me as something original and novel.
Because the book has quite a bit of violence against and perpetrated by minors, I would liken the violence to The Hunger Games series in terms of severity and graphic content, and thus, recommend for older readers. Mystery/thriller readers may find more enjoyment from this book then I did. Overall, a middle-of-the-road read.
Content Analysis:
Profanity/Language: 30 religious exclamations; 68 mild obscenities; 2 religious profanities;27 derogatory names; 10 scatological words; 22 anatomical terms; 4 offensive hand gestures.
Violence/Gore: Playful punch to shoulder; bloody gash to head due to earthquake; boy is tacked to a bulletin board by other boys; numerous reflections on murders of self via drowning, stabbing, gunshot or accident; multiple mentions of bruises due to child abuse; numerous bruises, scrapes and minor injuries; few scenes of destruction of property due to natural disasters and subsequent looting; two different scenes of fist fights between teenagers resulting in varying injuries; numerous accounts of murders and suicides via guns, knives, stoning, drowning, electrocution (scenes vary in length from one paragraph to four pages in length and vary from little graphic detail to very violent imagery with wounds and blood graphically depicted); mass shooting of adults by military personnel; bombing of bridge; teenagers poisoned by military personnel.
Sex/Nudity: Several instances of hand holding, kissing, and hugging by teenagers; arm around waist.
Mature Subject Matter:
Socioeconomic conflicts, death, suicide, war, mental disorders, abandonment, child abuse, ethics, robbery, breaking and entering, murder, computer hacking.
Alcohol / Drug Use:
Alcoholic adults; adults drinking beer; adult smoking; teens drinking beer.
Reviewed By Beckie