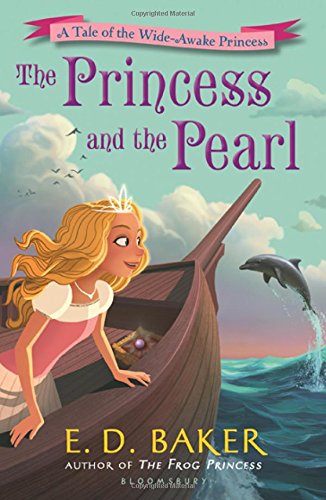 Publisher's Note:
When Princess Annie's father and uncle fall ill and no doctors in Treecrest can cure them, there's only one person who might be able to help -- a healer who lives in Skull Cove, all the way on the other side of the world. To journey there, Annie and Liam must set sail on dangerous seas full of sea monsters and magical creatures. There, Annie finds out that the only cure for her father is a giant pearl that's been stolen and held captive by a protective sea witch. Can Annie find the pearl before it's too late?
The magic continues in E. D. Baker's irresistibly fun and fantastical Wide-Awake Princess series!
This book was sent to Compass Book Ratings for review by Bloomsbury USA
The Princess and the Pearl
by E. D. Baker
Overall Review:
Annie and Liam have been through a lot together and are looking forward to settling into a normal royal life. But a mysterious illness sends them off on a new quest: find the cure before it's too late.
With The Princess and the Pearl E.D. Baker provides readers with a wonderful addition to the Tales of the Wide Awake Princess series. Once again Baker delivers a fun, fast-paced adventure complete with magic, romance and action. In addition to bring back some of our favorite (and not so favorite) characters the reader is introduced to several eccentric and entertaining new additions. Baker also continues to provide the reader with a truly refreshing take on romance within fairy stories with her character not only being married, but exemplifying respect and partnership.
The Princess and the Pearl does not disappoint and will leave you wanting more.
Content Analysis:
Profanity/Language: None
Violence/Gore: A few references to deaths prior to story; characters suffer from serious magical illness; magic backfires on character; character references beheading; many references to men dying; dragons offer to freeze character; references to magical creatures killing people; character hits magic creature; fairies threaten character with magic; character references being held at knifepoint; character magically drugs others, twice; several instances of threatening character; a few instances of group being attacked by others; vague references to violence; character kidnapped; character recounts becoming shipwrecked; dragon breathes poison gas; mythical creatures attack ship; mythical creatures joke about eating humans; character falls into wall; a few instance of women battling magically; ship attacked by monster; character threatened by monster; character squished by monster, humorous, non-fatal
Sex/Nudity: Married couples kiss and hold hands.
Mature Subject Matter:
Family, illness, betrayal.
Alcohol / Drug Use:
Implied alcohol consumption.
Reviewed By Amberle