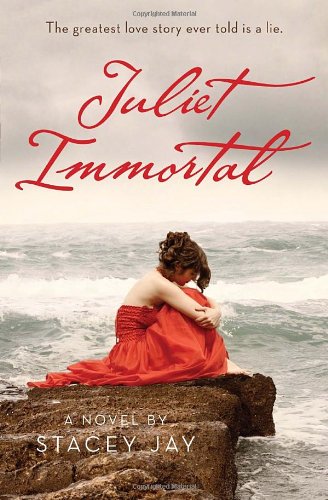 Publisher's Note:
Fans of Maggie Stiefvater's Shiver and Becca Fitzpatrick's Hush will relish this paranormal and unabashedly intense love story featuring literary history's most tragic couple--Romeo and Juliet--who meet again, not as true lovers, but truly as enemies.

The most tragic love story in history . . .

Juliet Capulet didn't take her own life. She was murdered by the person she trusted most, her new husband, Romeo Montague, a sacrifice made to ensure his own immortality. But what Romeo didn't anticipate was that Juliet would be granted eternity, as well, and would become an agent for the Ambassadors of Light. For 700 years, she's fought Romeo for the souls of true lovers, struggling to preserve romantic love and the lives of the innocent. Until the day she meets someone she's forbidden to love, and Romeo, oh Romeo, will do everything in his power to destroy that love.
This book was sent to Compass Book Ratings for review by Delacorte Books
Juliet Immortal
by Stacey Jay
Overall Review:
What if Shakespeare's famous play didn't get all the facts right? What if Juliet Capulet was actually murdered by her husband, Romeo? Such is the premise of "Juliet Immortal," Stacey Jay's gripping young adult fantasy. Jay's writing is evocative and her mythology is interesting and unique; although it has many of the same scenarios, "Juliet Immortal" is definitely a departure from other young adult paranormal romances. At times sweetly romantic, at times as creepy and macabre as a horror novel, and always addressing the incredible transforming power of true love, this book certainly kept me turning pages! Although I sometimes had trouble connecting to some of the characters and relationships, and some things about the world Stacey Jay has created left me a little bit confused, overall I very much enjoyed this unique take on one of the most famous love stories of all time.
Content Analysis:
Profanity/Language: 17 religious exclamations. 16 mild obscenities (there are also several references to hell as an actual place, which were not counted as obscenities). 2 derogatory names. 4 scatalogical terms. 6 anatomical terms. There are also a few religious exclamations in Spanish, and some derogatory terms in Spanish that reviewer did not translate to determine how offensive they were.
Violence/Gore: There are brief references to domestic abuse. Several characters get into scuffles, including a scene where a boy beats another boy—no detail is given but it's implied that it is bad and the beaten teen is in bad condition afterwards. A girl tries to kill herself and a boy by getting into a terrible car crash. A girl remembers being injured in a grease fire (no detail is given, except to describe her scars). A boy remembers his brother aiming a gun at their step-father and shooting (the gun is diverted and nobody is hurt). A girl has a disturbing dream involving a lot of blood. A woman is murdered and the scene is described in some detail, including mention of there being a lot of blood. There are several very creepy scenes involving the spectre of a partially-decomposing body. Overall, the tone of the book is fairly dark.
Sex/Nudity: Characters flirt, kiss, hold hands, etc. on several occasions (with at least two extended scenes lasting more than a page). A girl and a boy celebrate their wedding night and sex is implied, but not detailed. A boy caresses a girl's (clothed) hips. A mom tells a girl that she needs to get on birth control. A minor reference is made to a character's mother being pregnant out of wedlock at nineteen.
Mature Subject Matter:
Murder, violence, parental neglect, domestic violence.
Alcohol / Drug Use:
An adult has a glass of wine. Minors drink wine on several occasions, including an extended scene where three teenagers break into a vineyard (owned by one of the girls' fathers) and steal some of the wine.
Reviewed By CindyB