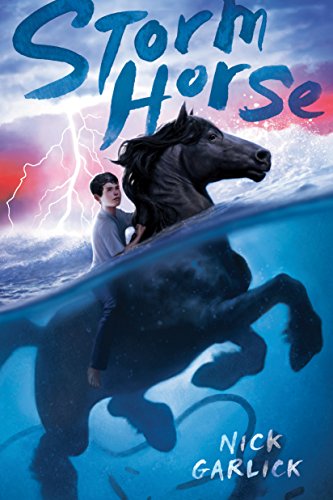 Publisher's Note:
With his mother missing and his father dead, twelve-year-old Flip's new home is a remote Dutch island. Menaced by the local bullies and followed everywhere by a mysterious girl, he wonders how he'll ever adapt to life on his uncle's farm.

But everything changes the day a sinking ship leaves a horse drowning in the waves. Risking his life to rescue it, Flip is told he may keep the horse -- but only if he can teach it how to work for its keep. From that moment on a friendship grows. But can a boy and a horse really save each other? And what other dark storm threaten their hard-won happiness?

Storm Horse is a thrilling, heartfelt tale of a boy, a horse, and their journey together towards a new life.
This book was sent to Compass Book Ratings for review by Chicken House
Storm Horse
by Nick Garlick
Overall Review:
Sticking to his middle grade literary roots, author Nick Garlick, takes a departure from sci-fi fantasy and offers a different style for readers in Storm Horse.
It's the mid-1960's, and through some unfortunate circumstances, 12-year-old Flip comes to live with his uncle's family on their farm located on the small Dutch island of Mossum.
Third person narrative captures smooth fluid writing as readers get to know Flip and discover his new surroundings alongside him. The author captures readers' attention with his description of farm and island life, while realistic conflict moves the story forward as Flip faces internal and external conflict.
A wonderful character for readers to become acquainted with, Flip displays tenacity with his adjustment to his new circumstances, bravery as he overcomes fears, and sensitivity with his consideration for others.
Although the story revolves around Flip, he is not the only intriguing character that is presented; there is a curious child Flip dubs as ghost girl, some unruly bullies, and caring individuals that come in human and animal form.
Readers will enjoy the presentation of light mystery, and the few action and adventure scenes that will be sure to raise their heart rates.
A fantastic book for animal lovers, Storm Horse is a traditional equine novel that is comparable to classics such as Black Beauty and My Friend Flicka.
Content Analysis:
Profanity/Language: None
Violence/Gore: Children throw rocks at another child, adult threatens them to stop: report of gang at school being bullies; extended scene (about 1 paragraph) report of bully being aggressive with character, mention of blood and injury; report of character's parent being involved in illegal activities; wreckage from an old war plane is found by children; report of a soldier being shot and injured; child challenges another child to a fight; child aims a loaded sling shot at another child, hitting an unintended victim (humorous); extended scene (about 2 ½ pages) children throw rocks at another child, chase and fight him/her; report of character smashing objects in anger; report of individual dying in an accident (2x); question of murder made in jest; character punches another character; extended scene (about 1 page) children sling rocks at animal, scaring them and causing injury; threat of violence made against animal; few mentions of injury occurring due to an accident.
Sex/Nudity: Married couple kiss on cheek; talk of boys and girls being in love with one another.
Mature Subject Matter:
Loss/death of a parent, financial issues bullying.
Alcohol / Drug Use:
Mention of parent storing alcohol; comment of adult(s) smoking cigars.
Reviewed By MaryLou